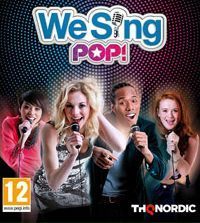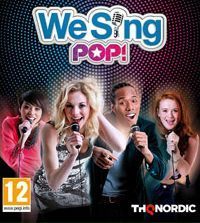 We Sing Pop!
A typical karaoke-like music game for up to four players, who can choose from over thirty different tracks. The playlist is a mixture of classic and new pop hits. We Sing Pop! requires players to utilize either dedicated microphones or a smartphone application.
Party | karaoke | music | splitscreen
We Sing Pop! for PS4 and XONE is another installment in the music series. Similarly to other installments in the series, the game was developed by the French Voxler – the studio, which specializes in karaoke video games. We Sing Pop! is available in a standard version all over the world, with the exception of Germany and France, where some of the songs have been replaced with local hits.
Mechanics
Similarly to the previous installments, players need to download a dedicated smartphone application, which turns their mobile device into microphones. There is also the option to purchase dedicated microphones. Players are tasked with recreating the vocal part of a given song in the best way possible. The lyrics are displayed on the screen. During the game, one can also enjoy the original video clips. The final score depends on one's performance.
Game modes
We Sing Pop! for PS4 and XONE offers the single-player mode, in which one can compete against the game's AI and share his or her achievements via the online ranking board. There's also the multiplayer mode, allowing up to four players to play together. Participants can sing solo, in duets, or as a band, and then compare the scores.
Misc.
We Sing Pop! features a list of over thirty different tracks. Each one of them has its own video. Players can obtain more songs by purchasing DLC sets.
Lukas Graham – 7 Years
Nico & Vinz – Am I Wrong
Lost Frequencies – Are You With Me
Charlie Puth – Attention
Dua Lipa – Be The One
Charli XCX – Break The Rules
Ellie Goulding – Burn
Macklemore & Ryan Lewis Ft. Ray Dalton – Can't Hold Us
The Chainsmokers Ft. Halsey – Closer
Echosmith – Cool Kids
OneRepublic – Counting Stars
Seal – Crazy
Imagine Dragons – Demons
Alan Walker – Faded
Coldplay – Hymn For The Weekend
Gnash Ft. Olivia O'Brien – I Hate U, I Love U
John Lennon – Imagine
The Proclaimers – I'm Gonna Be (500 Miles)
LP – Lost On You
Lady Gaga – Million Reasons
Calvin Harris – My Way
Maroon 5 – One More Night
Clean Bandit Ft. Sean Paul & Anne-Marie – Rockabye
Lorde – Royals
Kygo Ft. Parson James – Stole The Show
Maroon 5 – This Love
Jason Derulo Ft. Maude – Trumpets
Kaleo – Way Down We Go
Queen – We Are The Champions
Dead Or Alive – You Spin Me Round (Like A Record)
Game mode: single / multiplayer Multiplayer mode: Player counter: 1-4
PEGI rating We Sing Pop!