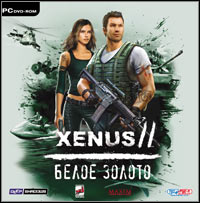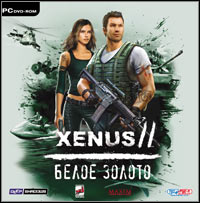 White Gold: War in Paradise
PC
Xenus II: White Gold
White Gold: War in Paradise is a dynamic action game with strong cRPG elements, in which we observe events from the first person perspective (FPP). In many ways this title resembles such games as Far Cry, Just Cause or Boiling Point.
Action | FPP | RPG elements
White Gold: War in Paradise

Release Date PC

24October2008
developer: Deep Shadows publisher: Play Ten Interactive Official website

game language: English
Year 2010, a small Caribbean country. The main part of the island is aflame with revolt. The Government Army tries to quash an uprising, powerful drug cartels are trying to decimate the Indians, and the whole population is being indiscriminately slaughtered by criminal gangs. This boiling pot, however typical for Latin America, is rapidly nearing an explosion. The main hero of the game is entrusted with a task to uncover some dark secrets, to investigate a few disappearances, and to stay alive above all.
White Gold: War in Paradise explores the shadowy background of modern low intensity conflicts, where the newest weapons often do battle with the antics of witchdoctors. There are plenty of military toys in the game – tanks and helicopters, armored cars and gunboats – but your main armament will be your wits and cunning. A high quality dynamic FPS with a handful of RPG elements thrown in for a good measure, White Gold offers a rich scenario in addition to the non-stop action. The FPS engine capable of working seamlessly with hundreds of square miles of open terrain, an extensive physics system, clever AI and free gameplay are combined with a character development system, realistic in-game economy, hundreds of quests and hundreds of NPCs.
With a lush exotic setting of a tropic paradise engulfed in the fires of war, White Gold offers to the FPS players a depth and immersion.
A FPS with a twist.
White Gold: War in Paradise is full of features every avid FPS fan will enjoy. The main hero can fight hand to hand combat, wield different weapons, and take control of a variety of vehicles. Drive jeeps, crush the opposing forces with tanks, blast them from helicopters and naval ships – everything is possible in the absolutely open world. But it is living, immersive environment at the same time – inhabited by different factions vying for wealth and power. During the game you'll stumble upon such dark omens that even the full-scale fighting between the regular army and the mafia mercenaries will look like a quarrel among playing kids.
Game Features
• An unique mix of RPG and an action shooter in a modern setting.
• Total freeplay: visit all the island resorts of Caribbean turned into no-one's ground.
• Hundreds of destructible buildings and objects to blast into oblivion.
• More than 25 different military gadgets, including trucks, tanks, choppers and gunboats.
• Gripping non-linear storyline.
• More than 30 types of weapons.
• 8 independent parties with complex relations between each other and the main hero.
• An original RPG system.
• Real-time weather effects, day/night and atmosphere changes.
• Interaction with hundreds of unusual NPCs.
Game mode: single player
User score: 8,1 / 10 based on 160 votes.
Pre-release expectations: 7.0 / 10 based on 108 votes.
Age restrictions White Gold: War in Paradise: 16+
White Gold: War in Paradise System requirements
Recommended:
Core 2 Duo 2.4 GHz
2 GB RAM
graphic card 512 MB (GeForce 8800 or better)
Windows XP SP2/Vista