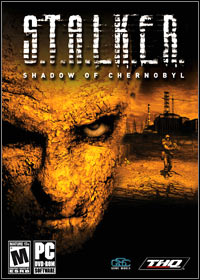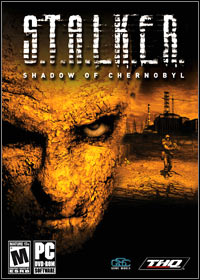 S.T.A.L.K.E.R.: Shadow of Chernobyl
PC
STALKER: Shadow of Chernobyl
A post-apocalyptic action game inspired by the science-fiction books by the Strugatsky brothers. It was developed by Ukrainian studio GSC Game World, known for Codename: Outbreak as well as Cossacks and the American Conquest game series.
Action | FPP | Post Apocalypse | FPS | shooters
S.T.A.L.K.E.R.: Shadow of Chernobyl

Release Date PC

20March2007
developer: GSC Game World publisher: THQ Inc. Official website

game language: English
S.T.A.L.K.E.R.: Shadow of Chernobyl is a 3D action game with RPG elements created by GCS Game World for PC, previously known for Codename: Outbreak, and Cossacks.
Story
In 2006 a terrible accident caused an explosion of the sarcophagus, that had been raised over the Chernobyl's broken nuclear reactor. Radioactive dust was scattered across a large area, bringing death to people, animals, and plants. An area within the radius of 30 kilometers from the nuclear plant has been cut off from the rest of the world by the army. The committee has failed to discover the cause of the catastrophe. Inside the radioactive Zone, which kept growing over time, more and more anomalies appeared. A mysterious force literally ripped bodies apart or caused mortal wounds. The few expeditions sent into the Zone found mutated animals, which couldn't have just resulted from contamination alone. The catastrophe, mutants, anomalies, and contamination – all looked like a carefully planned conspiracy.
It is 2012. Long time has passed since first expeditions could go more than a dozen kilometers into the Zone without risking certain death. Few individuals - called stalkers - dared to venture into the Zone to scavenge artifacts, strange plants, and other objects which are eagerly purchased by various research organizations. The player becomes one of the stalkers that choose to roam the Zone.
Gameplay
Gameplay combines elements of a tactic shooter, cRPG, and an action-adventure game. S.T.A.L.K.E.R.: Shadow of Chernobyl for PC is not just another mindless shooter in which you would just have to kill everyone in sight. Here, each mission requires you to carefully explore the area, search for artifacts, eliminate various mutants and human opponents that threaten your life, and cooperate with other NPC-stalkers. The non-linear story offers 7 different endings.
S.T.A.L.K.E.R.: Shadow of Chernobyl offers about 30 weapons, which can all be customized (e.g. you can mount a silencer or a scope). There is also a trade system – you can buy and sell gear and weapons, food, pharmaceuticals, and artifacts. The entire game area spans across about 20 square kilometers, and is divided into several smaller locations that make up the Zone.
Game modes
Apart from single player campaign, S.T.A.L.K.E.R.: Shadow of Chernobyl includes multiplayer with several game modes, such as Deathmatch, Team Deathmatch, and Artifact Hunt (a CTF variation).
Technology
S.T.A.L.K.E.R.: Shadow of Chernobyl for PC features fully 3D graphics (powered by in-house engine X-Ray), able to generate vast locations and detailed interiors. Weather conditions in the Zone change dynamically as you play.
Game mode: single / multiplayer Multiplayer mode: Internet Player counter: 1-32
Media type: 1 DVD
User score: 8,6 / 10 based on 7940 votes.
Pre-release expectations: 9.1 / 10 based on 443 votes.
PEGI rating S.T.A.L.K.E.R.: Shadow of Chernobyl
S.T.A.L.K.E.R.: Shadow of Chernobyl System requirements
Recommended:
Processor Intel Core 2 Duo 2.13 GHz
1GB RAM
graphic card 256MB (GeForce 7900 or better)
10 GB HDD
Windows 2000/XP