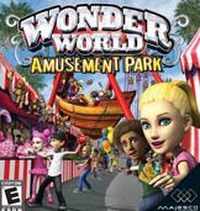 Wonder World Amusement Park
A simple arcade game in which we join a variety of mini-games. At the same time we are exploring the theme park, divided into five different thematic zones.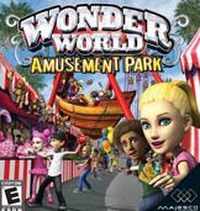 Game mode: single / multiplayer
Multiplayer mode: common screen, players: 1-4
All of the fun and thrills of your favorite amusement parks and carnivals are now available in your living room! In Wonder World Amusement Park, you can take your customized character through a fully 3D park with five themed zones and hop on five heart-pounding interactive rides. Play through a huge variety of mini-games as you win outfits and prizes for your unique character. Step right up and test your skills in a fun filled experience for the whole family!
Use your Wii Remote and Nunchuk to throw, draw, shoot, pump, grab, shake and more as you unlock 30 different park mini-games that range from Shut Your Trap to Island Defender
No amusement park is complete without exciting rides:
o Bumper Cars – bump your buddies out of the ring
o Pirate Ship –arrr, survive the food fight or walk the plank
o Sky Cannon – navigate targets as you fly across the sky
o Castle Terror– pump your way to the top and free-fall to the bottom
o Tunnel of Love – return color to the tunnel and eliminate the gobblins
Select, create and modify your own unique character. Pick your body type, facial features, outfit and accessories, then trick your character out with costumes you unlock throughout the park
Explore the park's five themed zones: Carnival, Spookyville, Fairytale, Pirate and Space
Play mini-games to win tickets to spend on prizes for your collection
Experience three gameplay modes:
o Story Mode--a single player challenge in which you navigate the expansive park, play games, and win prizes and outfits to accessorize your character
o Quick Play--a practice mode that enables 1-4 players easy access to any of the unlocked games
o Party Mode--a turn-based multiplayer game in which 2-4 players choose and compete in any series of games to earn the most points
PEGI Rating