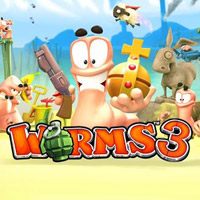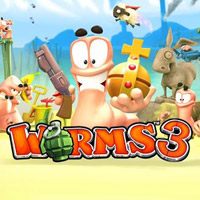 Worms 3
The next installment of the legendary Worms series, this time directed exclusively at mobile devices. The game offers the proven mechanics of the series in the classic 2.5 D binding.
Strategy | turn-based | 2D | arcade elements | co-op | splitscreen
Worms 3, released on AND and iOS, is the next installment of the popular Team 17 series, prepared this time with mobile users in mind. Unlike the fully-fledged third part of the series, Worms 3D released on PC and sixth-generation consoles, Worms 3 offers a classic 2.5D graphics referring to the older games from this series.
Mechanics
In terms of mechanics, Worms 3 doesn't introduce any changes, continuing to focus on the crazy fights of the 4-person teams. The authors have prepared an extensive campaign for a single player, consisting of 27 missions played in many different sceneries (including four completely new ones: beach, spooky, farm and sewers). Players have at their disposal four classes of fully modifiable worms: Heavy, Scientist, Scout and Soldier, as well as a whole range of weapons. Among them, we can find iconic weapons known from previous versions of the series (e.g. Old Lady, Homing Pigeon), as well as brand new gadgets: Nora's Virus and Canned Heat.
One of the biggest novelties of Worms 3 is the introduction of card game elements. While playing, players can create their own deck from 41 different strategy cards, divided into 3 groups: gold, silver and bronze. We get cards from the prizes obtained during the game. By putting cards at the beginning or end of a turn, players can influence the situation on the battlefield in a variety of ways.
Technical aspects
Worms 3 offers various game modes. In addition to the classic single-player campaign, there is also a special Body Count mode, which is a Worms' variation of the survival mode. The game also allows for asynchronous multiplayer competition in Forts and Deathmatch modes.
Technical aspects
Worms 3 offers new control system available here via a virtual D-pad, which is an alternative to the classic touch model.
Game mode: single / multiplayer Multiplayer mode: Internet
App size:
Age restrictions Worms 3: 12+