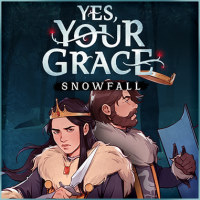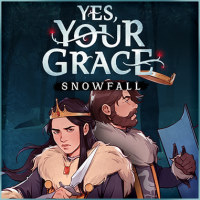 Yes, Your Grace: Snowfall
The second installment in a series of strategy game by Brave at Night. Yes, Your Grace: Snowfall has us playing as the ruler of a fantasy kingdom, making difficult choices and leading his army to battle.
Strategy | fantasy | Economic | RPG elements | 2D | indie games
Yes, Your Grace: Snowfall is the second installment in a series of unusual strategy games originating from 2020. It was developed by the same team as the first game, a British indie studio Brave at Night.
Plot
Yes, Your Grace: Snowfall is set in a fantasy world inspired by Slavic folklore. We play as a ruler, trying to manage his kingdom, handle various problems and take care of his family. The task is challenging, as it requires satisfying often conflicting expectations.
Mechanics
Yes, Your Grace: Snowfall makes use of a side perspective. Most of the game takes place in our courtroom, to which various petitioners arrive, requesting us to deal with their problems. These are all very diverse and of a varying scale, some being trivial, others affecting the entire kingdom.
Our chosen solutions affect the fates of our subjects (and thus the kingdom), our ruler and his family. No matter how competent we are, we can't satisfy everybody. We're also limited by our resources, which we never have enough of. To gain and retain allies we must often choose the lesser evil. Dissidents and dangerous individuals can be handled by locking them in the dungeons.
There's also some variety to the gameplay in form of battles, in which our ruler participates directly. In moments of downtime we'll also spend time with our family - our wife and children.
Technical aspects
Yes, Your Grace: Snowfall retains the colorful artstyle of its predecessor. The graphics were created with pixel art, but the lighting is realistic and the locations are very detailed.
Last updated on 09 June 2023
Game mode: single player
Age restrictions Yes, Your Grace: Snowfall: 12+
Yes, Your Grace: Snowfall System requirements
Minimum:
Intel Core i5
2 GB RAM
graphic card 1 GB Geforce GTX 550 or better
2 GB HDD
Windows 7
Recommended:
Intel Core i5
4 GB RAM
graphic card 1 GB Geforce GTX 550 or better
2 GB HDD
Windows 7