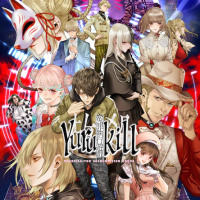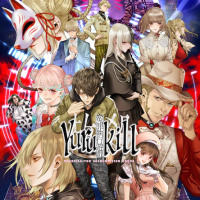 Yurukill: The Calumniation
Yurukill: The Calumniation Games is a genre cocktail in which a detective adventure game is blended with automaton-inspired shooter challenges that allow you to direct a fighter jet fighting armadas of enemy units.
Adventure | Detective | visual novel | shoot 'em up | shooters
Yurukill: The Calumniation Games is an unusual genre hybrid, combining elements of adventure games and old-school bullet hell shooters. It was developed by IzanagiGames, a studio known for such games as World's End Club and Death Come True. The G.rev team, which specializes in shoot'em up games, assisted in the development, that is, the authors of Senko no Ronde 2, Under Defeat HD and Kokuga, among others.
Plot
The game tells the story of a group of six prisoners who are sent to an abandoned funfair, where they will take part in a brutal game. Winning it will make them regain their freedom, while losing will end in their death. Each participant in this game is given a partner in the form of a so-called Enforcer, i.e. a person aggrieved by the crimes of another prisoner, who will be able to take revenge in case of triumph.
The main character is a young man named Sengoku Shunju, who is accused of causing a fire that killed 21 people.
The game's script was written by Homura Kawamoto, a Japanese screenwriter and illustrator known for his Kakegurui manga.
Game mechanics
Yurukill: The Calumniation Games combines elements of a detective adventure game with an old-school shooter inspired by arcade games.
In the adventure sections, the player talks to characters, investigates and solves puzzles. In this way, he collects information and documents, which are later used during cross-examination by Enforcers from other teams, where our character's life is at stake.
We also regularly have to take part in arcade challenges taking place in virtual reality. These take the form of shooting levels, during which we control a fighter battling an armada of enemy units. In these sections, succeeding requires not only good reflexes, but also learning a sequence of enemy attacks to avoid getting hit. Within these sequences, we have to destroy the preconceptions in the brains of the Enforcers and eventually face them in the form of a big boss battle.
The two types of gameplay are combined in the next variant of challenges, the quizzes. In them, the fighter rushes through tunnels, and we observe the events from a camera placed behind the machine. The route is divided into several lanes representing a variety of answers to questions. We must not only demonstrate our knowledge by choosing the right option, but also our reflexes by doing it at the right moment.
Game modes
The game offers only a single-player mode. In the campaign, you can choose the difficulty level of the arcade challenges, which allows even people without fast reflexes to have fun.
In addition, there is a Score Attack mode, in which we play only the arcade sections, trying to get the highest score possible. Our achievements are shared with other players as part of a network ranking.
Technical aspects
Yurukill: The Calumniation Games features attractive graphics. The adventure sections were realized in a 2D style typical of visual novel games, while the arcade segments were made in 3D.
Game mode: single player
PEGI rating Yurukill: The Calumniation
Yurukill: The Calumniation System requirements
Minimum:
Intel Core i5
8 GB RAM
8 GB HDD
Windows 10 64-bit