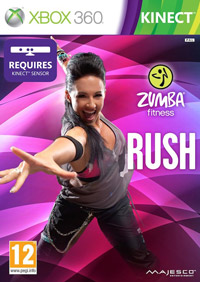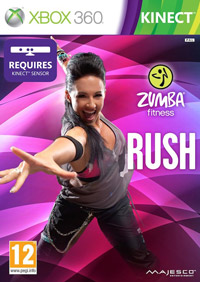 Zumba Fitness Rush
X360
Zumba Fitness Rush is a continuation of a game combining aerobics and dance, in which there are even more training regimes, songs and arrangements to practice. The authors have prepared forty-two new songs to the rhythm of which we can play in front of the TV.
This is Zumba Fitness expansion pack.
Party | Kinect | fitness | dancing | Xbox exclusive titles
Zumba Fitness Rush

Release Date X360

13February2012
developer: Zoë Mode publisher: Majesco Entertainment Official website

game language: English
Four million players and counting have already discovered the exhilarating Zumba® Fitness interactive video game work out. Following the worldwide best-selling original, Zumba® Fitness Rush builds on that phenomenal success while elevating the exer-game category to a new level of fun, effective fitness. This cutting-edge experience layers in a wealth of exclusive content only available on Kinect, plus lots of new features and improvements that amp up the dance fitness play so you can party yourself into shape!
Featuring 50% more content than Zumba® Fitness 2 on Wii: more routines, more venues and more instructors, plus voice control, online connectivity and DLC support for the most feature-rich, interactive Zumba experience to date.
Get a total body workout with 42 electrifying new routines and music tracks (10 exclusive to Kinect), now featuring hits from today's hottest artists including Pitbull, Nicole Scherzinger and Yolanda Be Cool & DCUP, along with contagious Zumba originals that let you lose yourself to the music.
Learn 24 different dance styles as you play (more than twice the number in the original game). From fan favorites like Merengue, Salsa and Cumbia to new additions that include Axe, Bollywood, Ragga, Bachata, Latin Pop, Quebradita, Batucada, Pasodoble and more, Rush lets you experience a broad range of cultural rhythms from around the world.
Dance naturally hands-free with Kinect technology that enables full body motion tracking for an unencumbered interactive workout.
Two player support lets you party together with friends and family members in a cooperative format.
Voice control for menu navigation gets you dancing even faster.
Feel the rush with three different game modes you can play solo or with a friend: Single Song lets you dance any routine of your choice and the new song preview feature gives you a feel for each rhythm; Full Class is a work-out block of routines in 20, 45 or 60 minute formats. Create your own custom workouts by saving a playlist of your favorite music and choreography; Learn the Steps is revamped tutorial mode that lets you learn at your own pace by breaking down the four core dance styles into the basics. Slow down or speed up each module as you receive focused per limb feedback that helps you master each move and build confidence.
Follow along as 6 superstar Zumba instructors (3 exclusive to Kinect) guide you through each routine: Beto, Tanya Beardsley, Gina Grant, Kass Martin, Jason Thompson and Erica Pierce. New 3D avatars of each instructor make playing the game feel like taking a live class with Zumba's elite!
Get your party on in 10 dynamic environments--Miami Yacht, LA Nightclub, Rooftop, VIP Pool Party and Music Video Set--plus 5 Kinect exclusive venues: Bollywood, Rio Carnivale, Scandinavian Ice Hotel, New York City Street and Las Vegas.
New video cueing system makes the choreography easier to follow for new players.
New Progress Tracker tallies every workout statistic, including calories burned, achievements earned, overall rank and technique score.
Accessible gameplay features Low, Medium and High Intensity routines tiered for all skill levels plus a full Tutorial mode.
Earn achievements and unlock exclusive behind-the-scenes videos as you play.
In game class locator lets you find an instructor near you so you can try a live Zumba® class and become part of the community.
Post-launch downloadable content will offer new dance style packs and hit music via Xbox LIVE.
Game mode: single player
Media type: 1 DVD
User score: 8,3 / 10 based on 62 votes.
PEGI rating Zumba Fitness Rush