News
video games
21 February 2019, 00:09
author: Michael Kulakowski
Paradox Launches a Dedicated Multi-platform Mod Website
Paradox Interactive has launched a new multi-platform mod service for the studio's titles, such as Cities: Skylines or Surviving Mars.
Swedish developer Paradox Interactive is one of the largest PC game publishers on the market, specializing in economic and strategic games. One of the most interesting aspects of these productions is the number of mods created for each of them, which enrich the gameplay and extend the fun. Recently, the most important titles from the company's catalogue have also more and more often found their way to consoles. Until now, however, only Steam users had easy and quick access to the modifications. However, the company's management decided to change this by opening the free multi-platform service - Paradox Mods, which will support the company's productions available in on Steam, but also on other digital stores, such as GOG.com or Epic Games Store, as well as consoles (so far only Xbox One).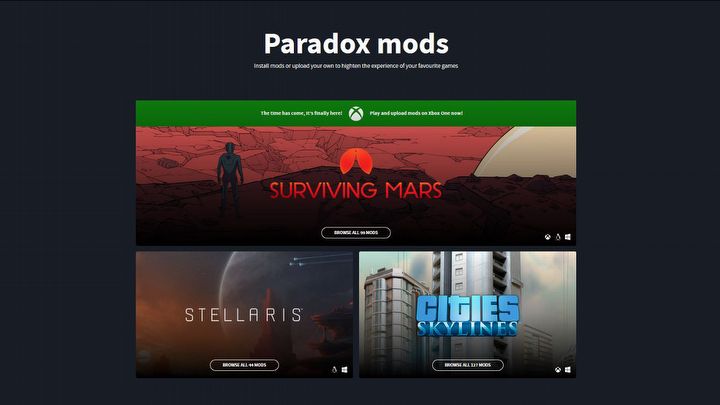 Paradox Mods users can easily upload their modifications to the website by choosing from many available categories. The mod is then openly and transparently evaluated by other players. Work on Paradox Mods has been going on for over a year. The most interesting aspect of the service is the cross-platform support for consoles. Thanks to an agreement with Microsoft, for the first time gamers using Xbox One will gain access to a full range of PC mods, which did not have to go through a long certification process. At the moment Xbox supports only use mods for Surviving Mars, but in the future, all subsequent strategic productions released by Paradox will work with the service by default. The PC version of Paradox Mods outside Surviving Mars has been modified for Stellaris and Cities: Skylines.
Paradox would like to offer mods on Sony and Nintendo platforms in the future, but the company remains realistic and does not expect both companies to change their attitude towards such ideas quickly. At the moment, the company is satisfied with the cooperation with Microsoft. The company's representatives also emphasize that other publishers and developers should follow their initiative.