News
video games
17 September 2023, 23:01
Stride: Fates Looks Like Mirror's Edge 3 We May Never Get
Meta and Joy Way have released an announcement trailer for Stride: Fates. Developed for augmented reality goggles, the game is a sequel to Stride from 2021.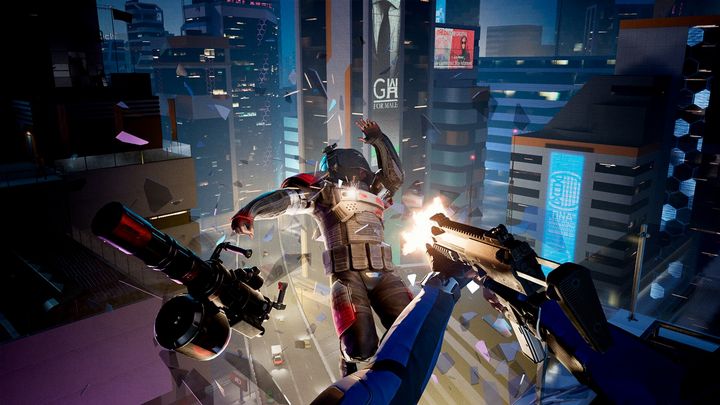 FPP action game Stride will live to see a sequel. It will not be, as originally planned, a DLC or an update, but a full-fledged sequel. Stride: Fates is a title developed with augmented reality goggles in mind.
"In this new full-fledged game, you will join SkyChase's elite forces to travel and shoot your way through an amazing story-driven adventure. Launching this holiday season!," reads an excerpt from the announcement on Meta's website.
In order to survive and climb the ranks of the SkyChase unit, players will have to deal with power shifts in gangs, family conflicts, corporate secrets, forbidden technology and many other issues that can stand in the way of success.
As assured by the developers at Joy Way, Stride: Fates improves on every aspect known from the original. The developers have been particularly attentive to improving the parkour elements, which were the strength of the first game. The game engine was also redesigned to offer a more "advanced level of visuals, physics and interactivity."
This is what Mirror's Edge 3 could look like
When speaking of Stride: Fates, it is impossible to avoid associations with the Mirror's Edge series. Indeed, inspiration with this already classic series by EA DICE are visible in the work of Joy Way. All the more saddening is the fact that creators of Battlefield are not going to (at least for now) to resurrect the much-loved series.
Below you can watch the announcement trailer of Stide: Fates, while imagining what the possible Mirror's Edge 3 could have looked like, if DICE did not focus only on Battlefield.
As the developers mentioned earlier, the release of Stide: Fates will take place in the run-up to Christmas. The game will be available on Meta devices and PC (Steam).