BattleTech - RogueTech v.0.996-Patch6-F3-PLUS-HF - Game mod - Download
The file RogueTech v.0.996-Patch6-F3-PLUS-HF is a modification for BattleTech, a(n) strategy game. Download for free.
file typeGame mod
file size783.7 MB
last updateSunday, February 10, 2019
downloads2355
downloads (7 days)16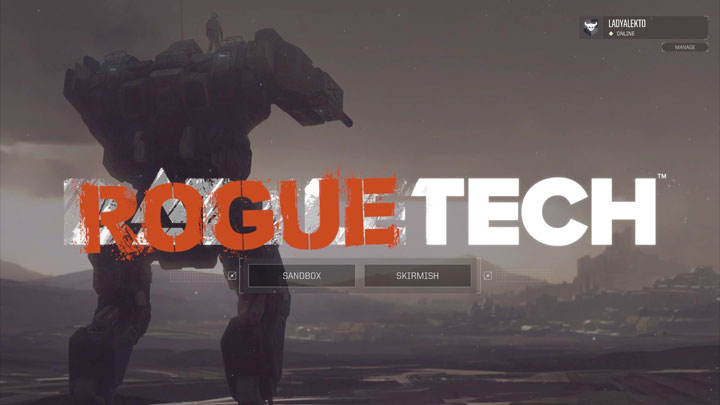 RogueTech is a mod for BattleTech, created by LadyAlekto and Morphyum.
Description:
Makes BattleTech more Roguelike
RogueTech has as goal to provide new challenges and a harsher simgame experience. You have to survive by all means, the enemy's will do their best to kill you and no one gives a rats ass about some merc dying
The timeline for this mod is at the start of 4th Succession and the War of 3039, when the the first technologies of the Helm Core appear around the sphere.
THIS MOD IS NOT SUPPOSED TO BE EASY, ENEMIES ARE DEADLIER AND THAT'S INTENTIONAL!
I mean, how fair would it be to just have the player have all these fancy toys?
Highlights
Big, RogueLike, Sandbox Experience
Rebalanced Sim and Combat game, to give you a harsher world.
More Mech's: From the pirate commando with infernos, to the Massive KingCrab-0001 with twin Gauss rifles, face off against all kinds of enemy's.
With the great houses scrambling for superiority and unlocking the secrets of Helm, new weapons arrive on the battlefield, but nothing is cheap.
Tonnage means nothing!, Everything is balanced around what your Lance costs, not what it weights
MASSIVE CUSTOM CAMPAIGN DIFFICULTY OPTIONS
IMPORTANT!
If you had other mods installed, and the game doesn't start, delete all saves that uses these as the game may
try to reference files from these and can crash on start-up
This is a HBS issue with internal databases on saves, not a RogueTech bug
The first start takes a while, modtek builds its own database from nearly 4000 files, that takes a while, up to 20 minutes, starts after that are extremely fast, please be patient
AS LONG AS YOU SEE A BLACK SCREEN IT STILL IS LOADING
Included Mods
Check this Article ?for the mods included in this pack.
Required Mods
You WILL need MPStark's BattletechModLoader(BTML) in the newest versions, since older one break the mod.
?????????
Install
The All in One, this is the intended game experience.
The AIO Package includes most required dll's
Select your Battletech\mods\ folder and extract the files
Start your game
Optional:
You are also free to poke and prod each of the files to see what you can do.
Update:
To update, simply overwrite existing files.
Delete your .modtek folder to clear the cache
Check filedescription and changelog if you have to delete old files
Changelog
The exact changes will be kept in Articles, so you can check what it all does (will do my best to clean it up).
Special Thanks
I want to credit MPStark, Morphyum, RealityMachine and janxious for their dll's, which they have given me permission to be used for this mod pack.
And credit where credit is due, everyone on the battletech discord modders channel, who gave input and who helps ironing out bugs, you are all great guys :)
Thanks to Callyste for the gorgeous Header
Notes
Anyone may take this apart to figure out how modtek works, ill try to add as many different stuff as possible for this purpose. I will also answer about everything i learn and tell you how to use it.
Report problems with download to support@gamepressure.com