UFO: Enemy Unknown (1994) - OpenXcom v.2022.06.07.2003 - Game mod - Download
The file OpenXcom v.2022.06.07.2003 is a modification for UFO: Enemy Unknown (1994), a(n) strategy game. Download for free.
file typeGame mod
file size6.4 MB
downloads2280
(last 7 days)15
last updateSunday, July 10, 2022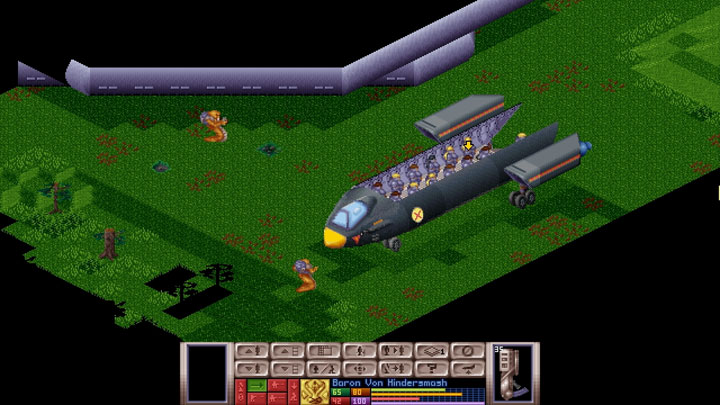 OpenXcom is a mod for UFO: Enemy Unknown / X-COM: UFO Defense, created by OpenXcom Team.
Description:
OpenXcom is an open-source clone of the original UFO: Enemy Unknown (X-Com: UFO Defense in USA), licensed under the GPL and written in C++ / SDL. It was originally founded by SupSuper in February 2010, and has since grown into a small development team surrounded by a very supporting community.
The goal of the project is to bring back the tried and true feel of the original with none of the issues. All the same graphics, sound and gameplay with a brand new codebase written from scratch. This should give it:
Fixability: Play the game natively without any need for emulators or fancy hacks, with none of the limitations and bugs that plagued the original. No more 80-item-limit, personnel limits, funding overflows, disconnected facilities, broken proximity grenades, floating soldiers, etc.
Moddability: Tweak the game to your heart's content. Sure the original was pretty good, but maybe you just think it could be that bit better. A nicer base layout, better laser weapons, maybe challenge yourself with a custom game mode, or just put in all the crazy stuff you've always wanted! None of it is hardcoded.
Flexibility: Port the game to any platform you like, customize it to your liking, or use it to make your own far-fetched remakes. The code is fully documented and open-source so anyone can take a crack at it.
Instructions:
OpenXcom requires a vanilla copy of the X-COM resources -- from either or both of the original games. If you own the games on Steam, the Windows installer will automatically detect it and copy the resources over for you.
If you want to copy things over manually, you can find the Steam game folders
at:
UFO: "Steam\SteamApps\common\XCom UFO Defense\XCOM"
TFTD: "Steam\SteamApps\common\X-COM Terror from the Deep\TFD"
Do not use modded versions (e.g. with XcomUtil) as they may cause bugs and crashes. Copy the UFO subfolders to the UFO subdirectory in OpenXcom's data or user folder and/or the TFTD subfolders to the TFTD subdirectory in OpenXcom's data or user folder (see below for folder locations).
## Mods
Mods are an important and exciting part of the game. OpenXcom comes with a set of standard mods based on traditional XcomUtil and UFOExtender functionality. There is also a [mod portal website](https://openxcom.mod.io/) with a thriving mod community with hundreds of innovative mods to choose from. To install a mod, go to the mods subdirectory in your user directory (see below for folder locations). Extract the mod into a new subdirectory. WinZip has an "Extract to" option that creates a directory whose name is based on the archive name. It doesn't really matter what the directory name is as long as it is unique. Some mods are packed with extra directories at the top, so you may need to move files around inside the new mod directory to get things straighted out. For example, if you extract a mod to mods/LulzMod and you see something like:
mods/LulzMod/data/TERRAIN/
mods/LulzMod/data/Rulesets/
and so on, just move everything up a level so it looks like:
mods/LulzMod/TERRAIN/
mods/LulzMod/Rulesets/
and you're good to go! Enable your new mod on the Options -> Mods page in-game.
Last update: Sunday, July 10, 2022
Genre: Strategy
File size: 6.4 MB
Files for UFO: Enemy Unknown (1994)