The Sims 4 - New Spa Day Traits v.22092021 - Game mod - Download
The file New Spa Day Traits v.22092021 is a modification for The Sims 4, a(n) simulation game. Download for free.
file typeGame mod
file size119.4 KB
downloads2561
(last 7 days)29
last updateSunday, October 17, 2021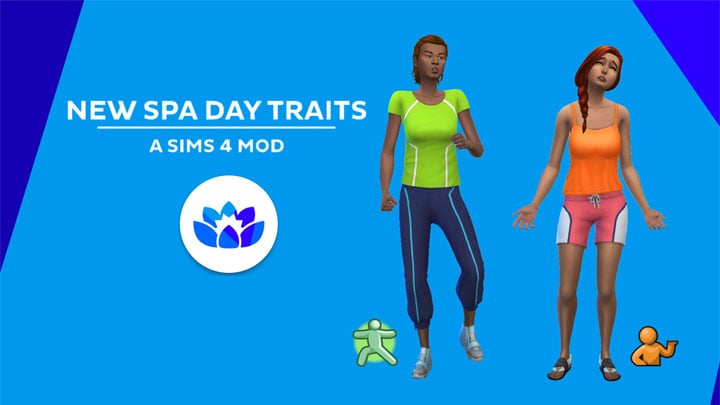 New Spa Day Traits to modyfikacja do The Sims 4, opracowana przez kutto.
Description (in author's own words):
This trait pack adds two new Lifestyle traits which integrate into the features of the Spa Day game pack and give you a few new reasons to visit a spa lot. Each trait comes with new moodlets, social interactions with custom loots and speech bubbles, and whim sets.
Traits
- Health Nut
These Sims take their health and wellness very seriously. They get powerful moodlets from yoga, and will enjoy other forms of cardio, using a sauna, and drinking tea.
- High Maintenance
These Sims abhor menial tasks and household chores, but their mood will immediately improve when they are pampered. They see cooking, cleaning, and especially doing repairs as beneath them, and demand some time set aside for soaks in a bath or hot tub, or deep tissue massages. Consider hiring a maid or a butler for them!
Languages
English
Portuguese (thank you, francislorenzi!)
Russian (thank you, Yuffie!)
Polish (thank you, oksytocyna!)
Chinese (thank you, mumulinovo!)
Italian (thank you, ISY!)
French (thank you, Candyman!)
German (thank you, xxicedragon and LittleDog1002!)
Spanish (thank you, Team Onnya!)
Instructions:
HOW TO INSTALL THE SIMS 4 MODS?
1. First, you need to enable support for mods in The Sims 4. To do this, start the game, go to the "game options", and then to the "other" section. Here, you have to check two boxes: "Enable Custom Content and Mods" and "Script Mods Allowed."
2. Then, you need to extract the downloaded mod and move it to My Documents/Electronic Arts/The Sims 4/Mods. Extracted files will be in the format .package or .ts4script. You can move them dirtectly or to a subfolder, both will work.
Add as many or as few traits to your mod folder as desired. Keep all package files and script files paired together in order for the social interactions to work properly. Since this is a script mod, these traits can only be placed one folder deep.
3. That's it. The mods should work the next time you play the game.
Last update: Sunday, October 17, 2021
Genre: Simulation
File size: 119.4 KB