Cyberpunk 2077 - Hotscenes Next Gen - Cyberpunk Joytoy sex scenes - play it with your favorite characters v.3.5.2 - Game mod - Download
The file Hotscenes Next Gen - Cyberpunk Joytoy sex scenes - play it with your favorite characters v.3.5.2 is a modification for Cyberpunk 2077, a(n) rpg game. Download for free.
file typeGame mod
file size16.2 MB
downloads11380
(last 7 days)2052
last updateWednesday, September 21, 2022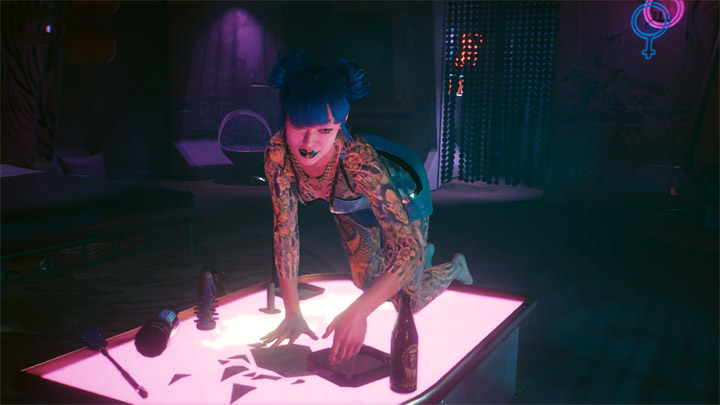 Hotscenes Next Gen - Cyberpunk Joytoy sex scenes - play it with your favorite characters is a mod for Cyberpunk 2077, created by anygoodname.
Description:
27+ selectable performers. Longer hotscenes playback. Switchable Player gender behavior. Spycam free-fly/orbit and follow the action. Freeze frame/Slow Mo to adjust for the best shots. Better quality bodies. Hotscenes exclusive appearances.
Play Joytoy hotscenes with your preferred performers.
Warning:
this mod can expose nudity which may be not appropriate for some audience, especially minors.
Please do not use it if you find it unacceptable or it's prohibited in your territory or society.
Key features:
27+ selectable performers. No replacers. No file swaps. A single mod to cover it all.
Longer and more spicy hotscenes.
Even more spicy with the Player gender behavior switching feature.
Flying Spycam powered by the Nano Drone by (c)keanuWheeze.?
Free fly/orbit and follow the action modes.
Slow Motion playback and Freeze Frame.
Hotscenes exclusive better quality character appearances (body details, garment selection, animations).
Male NPCs look like males when naked (hotscenes exclusive).
Manage Player underwear state in the hotscenes based on your preferences.
Starring:
Alt Cunningham
Brittany Hayes (Joytoy)
Carol Emeka
Cheri Nowlin (Clouds? receptionist)
Charlene Fox (Joytoy)
Emilie Massenat (Placide girlfriend)
Evelyn Parker
Hanako Arasaka
Inessa Stepanova (Crowd member)
Judy Alvarez
Maiko Maeda
Meredith Stout
Mya Hicks (Crowd member)
Panam Palmer
Rachel Casich
Rita Wheeler
Ruby Collins
Skye (Clouds doll)
Angel (Clouds doll)
Dusty Lowe (Joytoy)
Kerry Eurodyne
Logan Scott (Joytoy)
Lyle Thompson
Mateo Thiago
River Ward
Stripper (Side quest character)
Tom Caldera (Clouds doll)
What it does:
This mod allows to switch Joytoy characters to play the Act II hotscenes without manipulating any files or the application restart.
Just install the mod and pick your scene from the collection menu, select a performer, cue the scene and play.
The mod also allows to play the hotscenes longer and create more spicy experience with the scenes randomizer.
It also allows you to select the Player (your V character) gender behavior for the scenes. A variety of behavior patterns available to select.
A flying Spycam allows to watch it from the third person view with a free-fly or orbit and follow the action style control.
This is a single mod covering multiple characters switchable at any time. No permanent replacers/overrides. No side effects outside the hotscenes etc.
The mod only needs to save the game and reload it to make the changes into effect and to start the scene playback.
As the game is saved right before starting any action you can reverse any unwanted/unexpected game progress results by just reloading the save.
A scene playback means you will be moved to the scene to interact with the scene performer any way you like it (and as the game allows it) to trigger the hotscene animations.
Once the scene is over it's up to you if you want to stay in the place or get back by reloading the game.
And the last but definitely not least: it allows the mod window to upscale for large high resolution monitors.
What it does not do:
- the performer character switch does not affect anything else in the game and it's reversible at any time,
- it does not change the performers permanently - even if you forget to revert it the game application restart always restores originals.
- it does not change, replace, overwrite nor overlap any of the game original files and properties,
- it does not change any character built-in appearance so it does not make any NPC other than the selected Joytoy look other than designed. Specifically it does not make any other NPC nude or more nude than the original.
- the Hotscenes mod special appearance variants are used in the scenes and only if set by the mod. Meaning they won't change the selected characters look outside the scenes. They won't collide or overwrite the game vanilla appearances neither other mods.
- it does not unlock the hotscenes if you're not allowed to access them by the game. This means they will be only available when your time comes in the Act II,
- it does not allow to replay quest related one-off hotscenes (e.g. Panam and V in panzer),
- if you use it with mods that change the game built-in characters fundamentals the results may vary and depend only on the other mods quality,
- it does not activate if the nudity censorship settings is on in a bid to prevent exposing inappropriate content.
Instructions:
This mod requires CyberEngineTweaks
Download Hotscenes Next Gen - and extract the archive to "…Cyberpunk 2077\archive\pc\mod".
Last update: Wednesday, September 21, 2022
Genre: RPG
File size: 16.2 MB
see more
Popular files for Cyberpunk 2077