Cyberpunk 2077 - Missing Persons - Fixer's Hidden Gems v.1.1.8 - Game mod - Download
The file Missing Persons - Fixer's Hidden Gems v.1.1.8 is a modification for Cyberpunk 2077, a(n) rpg game. Download for free.
file typeGame mod
file size713.1 KB
downloads134
(last 7 days)90
last updateWednesday, May 24, 2023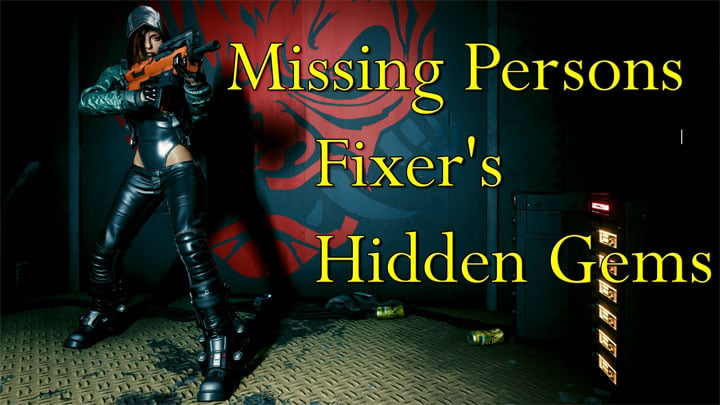 Missing Persons - Fixer's Hidden Gems is a mod for Cyberpunk 2077, created by Darkcopse
Description:
This mod adds 195 new fixer gig's with over 400+ new SMS messages to walk you through finding the 195 Hidden Gems built in the to the vanilla game. They will be given one at a time by their respective district's fixer and provides a map waypoint to help find the goal. Offers Euros, XP, and SC for gig completion.
This is an attempt to provide an immersive way to find almost all of the 195 Hidden Gems in the vanilla version of Cyberpunk 2077??.
For more information on Cyberpunk 2077's Hidden Gems, go here.
I say almost because I have replaced three of the gigs because, as of 1.6, they are already attached to vanilla trackable gigs.
Murk Man Returns Again Once More Forever Gig
Dressed to Kill Gig
A Santo Domingo NCPD Scanner Hustle
These have been replaced with two other secret events, and one hidden gem that was broken into two separate gigs.
The mod will start after completing the Regina Jones side gig, "Monster Hunt" or if you have already completed this gig, it will start on load. It works by sending V a message from the respective district's fixer, informing V of a Missing Persons or Hidden Stash gig. These gigs are typically small, information gathering gigs that payout a configurable amount of eddies, experience, and street cred. These gigs are tracked and counted. After finishing the last gig, you will be rewarded.
The progress of this mod's Hidden Gem gigs is saved in FACTS in each individual save. So this means you can run multiple different saves and each will retain their own progress.
The fixer messages have been written to incorporate the associated information from the Hidden Gem's shard, previous missions, and Cyberpunk lore. There are also 11 Hidden Gem messages that can differ depending on choices made with the vanilla missions, or the order in which you complete the missions.
A Missing Persons gig is typically completed by taking/reading a specific message shard. This mod is best experienced when starting a new game, however it is set to allow for this to be used at any time through a playthrough. If you have already found the Hidden Gem, the incoming gig message will have a "P.S." section telling you that you already have the shard and to read it in your journal inventory. Using the "Show Hints" setting will also add a "--Hint--" section to the message telling you the exact name of the shard (see an example in the screenshots).
However, there are a few that are triggered by entering a defined area. This is due to there not being a shard in the location or it's a problematic shard.
Note: if you have previously discovered the Hidden Gem, the bodies or other object may be despawned, but is still passable by entering the defined area.
Some Hidden Gems require certain story missions, side gigs, NCPD scanner hustles, and/or time to pass before they spawn. These gigs will not spawn until the Hidden Gem's prerequisites are met. Using the "Show Hints" setting allows the current message to show any prerequisites at the bottom of the message and will start with the text "--Hint--" (see an example in the screenshots).
There are four Hidden Gems that can be missed due to decisions made in the vanilla missions. These Hidden Gem gigs will be automatically skipped. If you have the "Show Hints" setting turned on, then you will be notified that the gig will be skipped and why.
In the Regina Jones side gig, "Woman of La Mancha", if you kill Anna or send her to the nomads.
In the Wakako Okada side gig, "Olive Branch...", if you successfully deliver the car.
In the Wakako Okada side gig, "Olive Branch...", if you let Alex out of the trunk.
If you selected the Nomad or Corpo lifepath.
So you can finish a maximum of 194 gigs or a minimum of 192 gigs.
Instructions:
This mod requires: CyberEngineTweaks and Native Settings UI.
To install the mod just extract the archive into game's main folder.
Last update: Wednesday, May 24, 2023
Genre: RPG
File size: 713.1 KB
see more
Popular files for Cyberpunk 2077