Game preview
12 July 2020, 21:45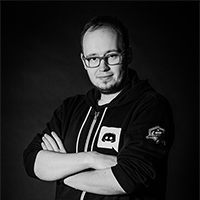 author: Mike Manka
Can it wait for a bit? I'm in the middle of some calibrations.
I Played Both Valhalla and Legion. This Fall, I'm Betting on Watch Dogs
Before the Ubisoft Forward conference, I had the opportunity to play the latest installments of both high-profile series, which Ubisoft will release later this year. After a few hours with AC and Watch Dogs, I know Legion will be a much more interesting.
Read the review Watch Dogs: Legion Review - Safe and Polite Revolution
This text was based on the PC version.
I am a player who most often chooses mainstream productions. I love the Mass Effect series, last year I was delighted with Control and Red Dead Redemption 2, I completed almost every installment of Assassin's Creed and I'm among those who liked Watch Dogs (the first one more than the sequel). So this year Ubisoft puts me in a pretty difficult position, as it releases Watch Dogs Legion on October 29, only to give players Assassin's Creed Valhalla just three weeks later. And don't forget Cyberpunk 2077, which is due to premiere exactly two days after Valhalla. It's not going to be an easy Autumn, especially if you like to spend a little more time on one game. But if I was forced to choose between Legion and Valhalla, my decision is clear at this point – Assassin's Creed will wait for better times because I'm going on an autumn trip to London. The more contemporary one. Dammit, will both of Ubi's Autumn titles really allow us to visit London...?
Why just now?
Ubisoft revealed the latest installment of Watch Dogs at last year's E3, and it was expected to be released in early 2020. However, the failure of Ghost Recon: Breakpoint caused the French publisher to move some of its games, giving them more time to spread their wings in the production process. I must admit that in the case of Legion this decision slightly surprised me, because what I had the opportunity to play a little over a year ago seemed to be quite representative and different experience, which was not copy-paste compared to what was alleged at least Breakpoint. First of all, there is no single main character in this game, and the idea of playing as any Londoner sounded like a very intriguing and novel solution. A year has passed, Ubisoft has revealed its cards, and it turns out that while some changes in production have taken place, there aren't that many of them... but that's not necessarily bad news. Why fix something that's not broken?
But let's start from the beginning because we were finally able to see what we were really going to face in the new Watch Dogs. London, in Ubisoft's vision, was still a peaceful and developing city, but at some point, a bomb attack occurs - we will witness it in the prologue. The attack was designed to frame DedSec, a hacking organization that fans of the series are already familiar with. Zero-Day is behind everything, but we won't quickly get any information on whether it is a person, an organization, or an extraterrestrial that has decided to interfere in our lives.
The result of this attack is the introduction into London of a military organization called Albion, led by the Extremely Evil Mr. No. 1 (Nigel Cass). Albion gets more and more power over time and, under the cloak of collaboration with the British government, imposes new restrictions on people, completely policing the lives of citizens with the help of ctOS. There are also those who try to make a living from the plight of the citizens, and they include the Extremely Evil Mrs. No. 2 (Mary Kelley), who leads one of the syndicates involved in the illegal organ trade, among other things. Forgive the over-exaggeration when describing the antagonists, but Ubisoft is known for making the enemy characters evil to the bone, which sometimes seems rather cartoonish. For now, I have exactly the same impression when it comes to Legion.
The player's goal, then, is to clear the reputation of DedSec, unravel the mystery of Zero-Day, and bring London to a more habitable state, where once again the public will be asked whether Brexit was actually the right thing to do. Not much more is needed to determine that the game will upkeep the level of narrative typical for Ubisoft – it will be fine, but we will not find anything revolutionary here.