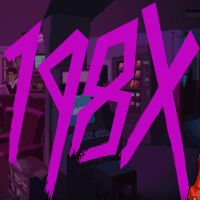 198X is an independent production in a retro style, which combines several different genres from the 1980s, such as beat'em ups, shooters, races and RPG games. The title is a tribute to the "golden age of arcade games" and there is also a plot referring to this period. The production was developed by the Swedish company Hi-Bit Studios and is its debut project.
Plot
The main character is Kid, an adolescent boy who one day discovers that unusual things are happening in a local arcade, resulting in a blurring of the border between the real world and video games.
Mechanics
198X gameplay is very varied - it depends on the level at which we are at the moment. There are several different genres here, characterized by drastically different mechanics and even the way of showing the action - sometimes we have a side view (the side-scroll perspective), in case of racing the camera moves behind the vehicle (TPP), and in RPG fragments we observe the world from the eyes of the hero (FPP).
The main assumptions of the game do not differ from what we know from the old arcade games - our task is usually to pass a given level, which requires defeating or shooting all opponents, winning a race or breaking through dangerous dungeons. All of this is joined together by a story - discovering it is also part of the fun.
Game modes
In 198X we can only play alone. The game offers a feature campaign in which we experience different genres and modes of gameplay.
Technical aspects
198X has a very nice, two-dimensional graphics. The luminaire is styled to resemble what we know from the 80's production (pixel art style), but despite appearances it has a quite high level of detail. The locations, animated pictures and intermittent scenes, through which the plot of the game is told, are particularly impressive - they are colourful and nicely animated.
System requirements
PC / Windows
Minimum: Dual Core, 2 GB RAM, graphic card Intel HD or better, 4 GB HDD, Windows 8