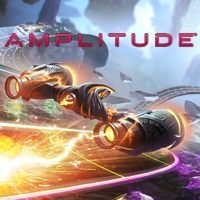 Amplitude
A re-edition of the classic music game for PlayStation 2, one of the first productions of Harmonix, the creators of the Guitar Hero franchise, as well as the Rock Band and Dance Central series. It was developed thanks to a successful fund-raising campaign on Kickstarter.
Party | music | crowdfunding | reeditions/remasters/remakes | indie games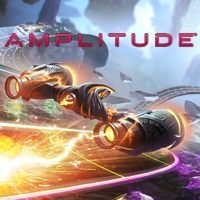 Game mode: single / multiplayer
Multiplayer mode: common screen
Amplitude is one of the first productions from Harmonix, the creators of the Guitar Hero, Rock Band, and Dance Central series. It is a rather unusual title, which may seem like a typical space shooter at a first glance. What is interesting, the PS4 and PS3 re-edition was developed more than ten years after the initial release of Amplitude for PlayStation 2, being an independent game that came to life thanks to a successful Kickstarter campaign.
Gameplay
The basic gameplay mechanics remain unchanged. It is still an original title in which you sit in the cockpit of a spaceship called Beat Blaster that races through musical cyberspace on a track that reflects the rhythmic notation of a song. By pressing the right buttons in the right moments, we get our instrument to emit sound (e.g. vocals, guitar, drums), and then proceed to another line to do the same. The gameplay is both spectacular and dynamic, and on higher difficulty levels, it makes even the most hardcore players break a sweat.
Game modes
Much like the PlayStation 2 original, the enhanced edition allows you to play both solo or in a "local" multiplayer. Online leaderboards are also featured. As far as performance is concerned, Amplitude for PS4 and PS3 runs at 60 FPS.
Technology
Amplitude for PS4 and PS3 offers enhanced visuals powered by a modified graphics engine that Harmonix used in their latest productions. The controls were also changed. Obviously, the game also comes with new music, although the majority of the available songs were composed by the developers exclusively for this game. It was explained that such a production needs a soundtrack that perfectly matches the gameplay. Nevertheless, licensed songs were not completely abandoned; however, the budget limitations did not allow us to get as many of them as in most Harmonix games.
Full tracklist of Amplitude for PS4 and PS3:
"All The Time" — C418
"Assault on Psychofortress" — Single White Infidel
"Astrosight" — Inter:sect Ft. Noelle LeBlanc & Naoko Takamoto
"Break for Me" — James Landino Ft. Noelle LeBlanc
"Concept"— Symbion Project
"Crazy Ride" — Insomniac Games
"Crypteque (1-2)" — Danny Baranowsky
"Crystal" — George & Jonathan
"Dalatecht" — Harmonix
"Decode Me" — Inter:sect Ft. Noelle LeBlanc & Naoko Takamoto
"Digital Paralysis" — Harmonix
"Do Not Retreat" — Komputer Kontroller
"Dreamer" — Harmonix
"Energize" — Harmonix
"Entomophobia" — M-Cue
"Force Quit" — Jim Guthrie
"Human Love" — Harmonix
"I.C.U." — Harmonix
"Impossible" — Darren Korb
"Lights" — Wolfgun
"Magpie" — Harmonix
"Muze (Amplitude Remix)" — Ingrid Lukas, Remix by Patrik Zosso and Nik Bδrtsch
"Perfect Brain" — Harmonix
"Phantoms" — Freezepop
"Recession" — Jeff Allen Ft. Noelle LeBlanc & Naoko Takamoto
"Red Giant" — Kodomo
"Supraspatial" — Jeff Allen Ft. Naoko Takamoto
"Synthesized" — Symbion Project
"Unfinished Business" — Shiohito Taki & Junichi Kamiunten
"Wayfarer" — Harmonix
"Wetware" — Harmonix
Similar games:
Age Rating
age requirements: everyone
System requirements