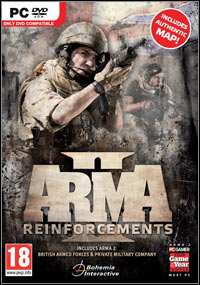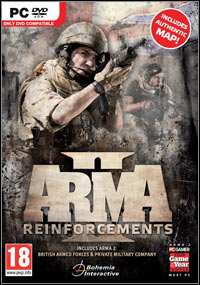 ArmA II: Reinforcements
PC
Compilation of two DLC add-ons, which does not require ArmA II to work properly. Add-ons allow you to become a member of a private security company and a soldier of the British armed forces.
Action | FPP | TPP | modern conflicts | FPS | military | co-op | shooters
ArmA II: Reinforcements

Release Date PC

01April2011
developer: Bohemia Interactive Studio publisher: Bohemia Interactive Studio Official website

game language: English
Arma 2: Reinforcements brings to the Armaversum two new factions - Her Majesty's Armed Forces and private contractors. Play it separately or combine with original Arma 2: Combined Operations for ultimate military combat experience. Joint he massive online multiplayer battles with up to 50 players and hundreads of AI units!
Arma 2: Reinforcements is a standalone expansion pack to Arma 2. It does not require the original Arma 2 or Arma 2: Operation Arrowhead.
Arma 2: British Armed Forces
Two months after the Allied military victory in Takistan, the new government is restoring the war-torn country. NATO forces assisting in this effort face the threat of insurgency, waged by the remnants of the defeated Takistani army in the mountaineous regions of Takistan. Company team of British paratroopers patrolling the treacherous mountains in Zargabad's vicinity is ordered to battle the amassing guerilla warriors.
Arma 2: British Armed Forces features
New Playable Content
New singleplayer campaign, in which the player is going to command a mobile observation team of British troops into the battle with the Takistani insurgents.
New Faction
Selection of modern British troops in desert and multi-terrain camouflage.
New Weapons
New personal weapons from modern British Armed Forces armory, featuring L85A2, L86A2 rifles, L110A1 machine gun, LRR and AWSO sniper rifles and NLAW AT launcher.
New Vehicles
New British ground and air vehicles, featuring the AH11 Wildcat and HC-3 Merlin helicopters; and Jackal 2 MWMIK and FV510 Warrior vehicles.
Arma 2: Private Military Company
One year after British and coalition armed forces successfully quelled the insurgent uprising in Takistan, the NATO Green Sea deployment is in the process of a strategic drawdown of combat troops in the region. Private military contractors shoulder the burden of the increased workload, with competition rising between the multinational organisations for lucrative security contracts. Private Military Company, ION, Inc. (formerly Black Element), successfully bid for a contract - codenamed Black Gauntlet - to provide security for a UN investigation team as they seek to piece together information regarding Takistan's abandoned nuclear weapons programme.
Arma 2: Private Military Company features
New Playable Content
Brand new story-oriented singleplayer campaign, unfolding across more than ten missions featuring full 2-player cooperative gameplay.
New Faction
Private Military Company, featuring several highly experienced professionals with long and bloody histories.
New Weapons
Exotic new weapons, including the automatic combat shotgun AA-12 and fully modelled XM8 in numerous variants.
New Vehicles
Attractive new vehicles, such as the Ka-60 'Kasatka', Armed Helicopter UAV and Armoured SUV.
New Environment
Unique abandoned wasteland style military weapons test range environment, built upon brand new models and textures.
Game mode: single / multiplayer Multiplayer mode: Internet
Media type: 1 DVD
User score: 8,3 / 10 based on 71 votes.
Age restrictions ArmA II: Reinforcements: 18+
ArmA II: Reinforcements System requirements
Recommended:
Pentium IV 2.4 GHz
2 GB RAM
graphic card 512 MB (GeForce 8600 GT or better)
Windows XP/Vista/7