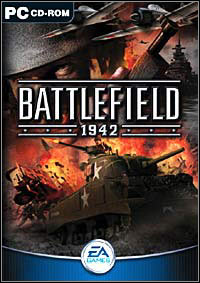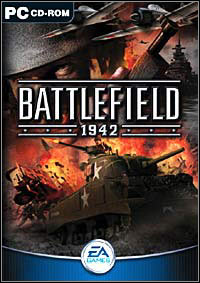 Battlefield 1942
PC
BF 1942
Set in WWII realities, an multiplayer-focused FPS by Swedish studio DICE – though it includes a single player mode with bots as well. In Battlefield 1942 you take control of soldiers from one of the five countries fighting in the war.
Action | FPP | World War II | Battlefield | FPS | co-op | shooters
Battlefield 1942

Release Date PC

11September2002
developer: EA DICE / Digital Illusions CE publisher: Electronic Arts Inc. Official website

game language: English
Battlefield 1942 for PC is an FPS set in WWII that focuses on multiplayer. The production is published by Electronic Arts and developed by Swedish Digital Illusions, primarily famous for racing games like Motorhead, Rallisport Challenge, and the Swedish Touring Car Championship series.
Mechanics
Due to its gameplay specificity, Battlefield 1942 does not feature a classic single player campaign. The player assumes the role of a soldier from one of five countries fighting in the war, namely USA, Great Britain, USSR, Germany, or Japan. Additionally, soldiers from each country are divided into five classes of different uses, e.g. the Scout engages enemies at long ranges, the Assault is most useful in frontal attacks, the Anti-tank is equipped with a weapon capable of destroying vehicles, the Engineer can not only set mines and explosives, but also repair vehicles and stationary weapons, while the Medic can heal himself and his mates.
Players are divided into two teams: Allies and the Axis. The objective of each match is to reduce the enemy's balance of coupons to zero. It can be achieved in a number of ways, e.g. by capturing and holding control points (which also serve as respawn points) or by simply killing the enemy soldiers. Gameplay strongly emphasises cooperation of all classes, which is vital for the success. The action takes place on 16 maps of up to 4 km2, which are modelled on real WWII battlefields, and placed in four different theatres, i.e. the Western Front (Omaha Beach, Normandy; the Ardennes; Operation Market Garden), Eastern Front (Kharkov, Stalingrad, Kursk, and Berlin), North Africa (Gazala, Tobruk, El Alamein, and Operation Battleaxe), and Pacific (Guadalcanal, Iwo Jima, Midway, and Wake Island).
The characteristic feature of Battlefield 1942 is the highly interactive gameworld. During the game, you can pick up any weapon left behind by others, hide in buildings, and use 35 different vehicles like transporters, tanks, bombers, fighters, aircraft carriers, submarines, battleships, and destroyers. You can also jump out of a plane with a parachute.
Game modes
Battlefield 1942 for PC focuses primarily on multiplayer – each match can be played by up to 64 players. The game features such modes as Conquest, Capture the Flag, Team Deathmatch, and Cooperation. There is also a single player mode in which your teammates and enemies are controlled by the AI. The campaign is divided into four chapters, each including four maps – players have to complete 12 diverse quests in every mission.
Technical aspects
The production utilises Refractor Engine created by Refraction Games studio from Sweden. Originally, it powered a WWI FPS Codename Eagle, then it was bought by Digital Illusions so as to use it in Battlefield 1942. Owing to the engine's possibilities, the game features impressive visuals, but during the time of its release, the title required a powerful hardware to run smoothly.
Game mode: single / multiplayer Multiplayer mode: Internet Player counter: 1-64
Media type: 2 CD
User score: 8,4 / 10 based on 2057 votes.
PEGI rating Battlefield 1942
Battlefield 1942 System requirements
Recommended:
Pentium III 800 MHz
256 MB RAM
memory card 64 MB (GeForce 3 Ti200 or better)
1.2 GB HDD
Windows 98/Me/2000/XP