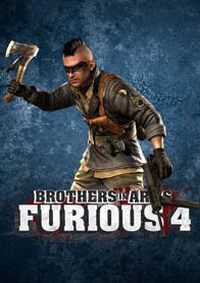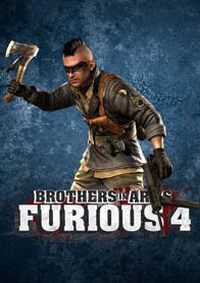 Brothers in Arms: Furious 4
FPP Shooter with four-person cooperation mode, which is a surprisingly dexterity and unrealistic part of the famous series. In production we move on to the times of World War II and embody soldiers of a special unit fighting at the back of the enemy.
Created by Gearbox Software, Brothers in Arms: Furious 4 is a new approach to this well-known series of WWII FPS games. This time the creators abandoned historical realism and tactical elements in favour of action and cooperation in multiplayer mode (co-op campaign for 4 people). Everything is maintained in the atmosphere of Quentin Tarantino's Inglorious Basterds.
The game book takes us to the very middle of the Second World War. It is year 1944, Hitler occupies a large part of Europe. However, this is about to change soon with four soldiers who, like Lieutenant Aldo Raine's unit, will wreak havoc behind enemy lines.
During the game we play as one of the soldiers who are part of the eponymous Furious 4. The first one, Crockett, is a battle-hardened Texan with a flamethrower, who eliminates the Nazis with a fancy branding iron combined with a deadly skewer. The second furious is Stitch, who likes to torture his enemies with electricity. Apart from them, the team also includes: Chock - a descendant of native Americans, swiftly eliminating his enemies with a tomahawk, and Montana - a tall bruiser with a chainsaw. Against the Furious 4, apart from the hosts of ordinary soldiers, the Tird Reich sends its secret weapon - an army of murderous soldiers created in Nazi laboratories.
A significant novelty in the fourth part of the series are the audiovisuals of the game, which depart from the realism known from the previous installments. In Brothers in Arms: Furious 4 the creators decided to use solutions more similar to those known from Team Fortress 2, than from any FPS game focused on realism. The cartoonish graphics are also an additional contrast to the brutal action scenes and sophomoric humor.
Last updated on 08 June 2011
Game mode: single / multiplayer Multiplayer mode: Internet Player counter: 1-4
Expectations: 5.3 / 10 based on 701 votes.
Age restrictions Brothers in Arms: Furious 4: 18+