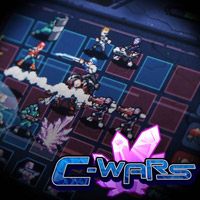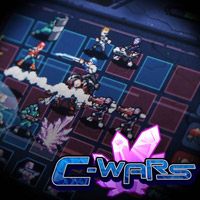 C-Wars
C-Wars is an unusual real-time strategy in which we have to fight off the zombie invasion by commanding the lunar colony's forces of order. Battles are played on squared boards, the colors of which determine which units we can call them.
Strategy | science fiction | RTS | zombie | 2D | crowdfunding | indie games
C-Wars is an unusual science fiction RTS. The project was developed by Onipunks studio.
Plot
The action of the game takes place over a hundred years after the nuclear war, which destroyed most of our planet. The survivors were forced to flee the Earth and colonize the surface of the Moon. The bases established there developed in peace for the next several dozen years. At the start of the campaign, this situation changes; colonists increasingly fall victim to a mysterious infection that turns them into a zombie. Players command local security forces and try to stop living corpses.
Mechanics
Events presented in the campaign take place in two lunar cities, which we can explore quite freely. However, players can't roam the location indefinitely - if we don't get the situation under control within a certain period, the metropolises will be destroyed by nuclear missiles to prevent further spread of the infection.
The most important element of C-Wars are the battles, which take place on maps covered with 36 square fields. Their color indicates who has control over them - our fields are marked in blue and those belonging to enemies are red. The main heroes can easily move around the map, but the support units will only be summoned to the blue squares. This means that it is crucial to defend our fields from enemies. The game uses a real-time combat system with an active pause. The gameplay is enriched by RPG elements, such as character development system.
Game mode: single player
Expectations: 3.3 / 10 based on 14 votes.
Age restrictions C-Wars: Good for all ages.