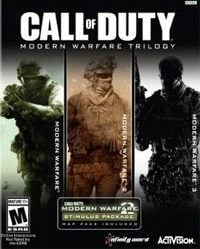 Game mode: single / multiplayer
Multiplayer mode: Internet
Call of Duty: Modern Warfare Trilogy for X360 and PS3 is a set of three installments belonging to one of the most popular FPS franchises. The package was created exclusively for consoles belonging to the seventh generation of hardware and includes three games developed by Infinity Ward, namely Call of Duty 4: Modern Warfare, Call of Duty: Modern Warfare 2 (with additional contents - a pack of five maps, collectively referred to as the Stimulus Package) and Call of Duty: Modern Warfare 3.
Plot
Call of Duty: Modern Warfare Trilogy for X360 and PS3 does not bring any changes in terms of the stories depicted in the three games included in this collection. Thus the player takes part in different military conflicts set at the turn of the twenty-first century. The player has modern weaponry and equipment at their disposal, which allows to deal with threats of the contemporary world.
Mechanics
The player takes on the roles of different soldiers fighting on the battlefields of the conflicts mentioned above. During missions, the player makes use of modern weapons and different vehicles. The player is taken to different regions of the world, including such places as New York or Dubai. Certain missions feature special actions, such as a descend from a helicopter or firing from the deck of an aircraft.
In both Call of Duty: Modern Warfare 2 and Call of Duty: Modern Warfare 3, the player encounters additional challenges to be completed either solo or in the co-op mode online. These are special missions based on specific concepts and objectives; also, the level od difficulty increases constantly during these assignments. Sometimes the player is required to face subsequent waves of incoming enemies.
The story campaigns are complemented by extensive multiplayer modes, such as Free for All, Team Deathmatch or Team Objective.
Age Rating
age requirements: 16+