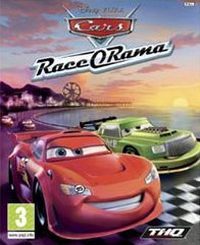 Cars Race-O-Rama
We play the role of McQueen Zigzag and fight for the title trophy. This time we are also racing on the beach, in the city or in the desert wilderness.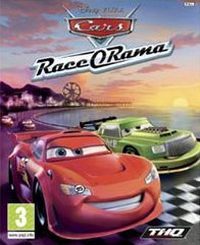 Game mode: single / multiplayer
Multiplayer mode: split screen
In Cars Race-O-Rama, players get to race against new characters through action-packed tracks to win the Race-O-Rama trophy as their own personalized Lightning McQueen. Join Lightning McQueen in Radiator Springs as he prepares his academy of student racers for the Race-O-Rama competition. Lightning finds out that Chick Hicks has his own set of academy student racers who don't always compete fairly. These student racers are preparing to race in the same competitions in order to propel Chick Hick's academy to the #1 spot. The races take place on various tracks, i.e. beaches, cities and the Baja desert. Along the way, racers are upgrading their abilities and customizing their look. The finale consists of a fully modified, ultimate Lightning McQueen racing against a fully modified Chick Hicks for the Race-O-Rama trophy. Let the race begin!
New Customization – Customize your world by customizing your cars. Modify paint color, wheels and rims, different hood options, side skirts, rear bumpers and spoilers.
New Characters – There are over 30 playable characters of which 15 are brand new - Doc Hudson academy of student racers, Chick Hicks academy of student racers, Motor Co Pit Crew, Not Chuck, Guido, Tater, Tater Jr., Bubba, Trophy Girl, Chick Hicks Pit Crew, Doc Hudson Pit Crew, Vin Racer along with major boss characters who are Chick Hick's protégés; El Machismo, Candice and Stinger.
New Worlds of Racing – Experience eight racing environments, four of which are completely brand new; Radiator Springs Speedway, Santa Carburera which takes you to the beaches, Motoropolis City where you can experience street racing and Autovia which gives you off road racing in the desert.
Play With a Friend – Experience the fun as you race against a friend in arcade mode which consists of mini games, lap races, missions and more.
Dynamic Game Events – Experience the reaction you get based on performing stunts throughout the game from paparazzi taking your picture to the crowds going wild.
Advanced Competitive AI System – Stay on top of your game as other characters employ cheat mechanisms to get you to loose the race.
New and Improved Drifting – Take control as you immerse yourself in the game by employing newly designed drifting abilities throughout the various races.
New Mini Games - Experience new mini games: Mack Track Challenge based off of the Mattel toy, three different games based on Disney Pixar's Cars Toons episodes (El Materdor, Mater the Greater, & Tokyo Mater), plus many new original games like Photo Op, Auto Cross, Tractor Stampede, and Transporter.
PEGI Rating