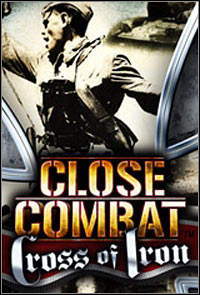 Close Combat: Cross of Iron
PC
Close Combat: Cross of Iron is the sixth installment of one of the most realistic tactical real-time strategies that have emerged.
Strategy | World War II | RTS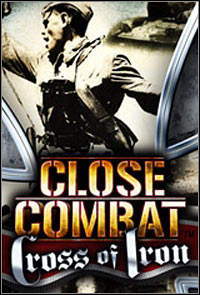 Game mode: single / multiplayer
Multiplayer mode: local network / Internet, players: 1 - 2

game language: English
game release date for PC:
13February2007
The Return of Classic Close Combat…
Based on the Atomic Games award winning Close Combat series of games. Close Combat: Cross of Iron, brings back the award-winning classic in new epic battles of the Eastern Front of World War II.
Immerse yourself in the ultimate Close Combat release: Close Combat: Cross of Iron for the PC. Take command of German or Soviet Battle Groups during WWII as you face the strength of the enemy war machine in a Grand Campaign giving you both the original and all new battles and operations that will test your tactical mettle.
In Close Combat: Cross of Iron you start off as a junior officer leading your men into battle in real time. Earn promotions as you deal with an unforgiving enemy. Fight and survive though the frozen winter, hot dusty summer and muddy autumn.
This is not just a re-release in a pretty wrapper! New features expand the ways you play Close Combat in entirely new directions.
This release includes a multiplayer Campaign system for your battles. The Service consists of a Campaign Server to which you connect to play a Strategic Campaign. There is a Single Player Server provided with Cross of Iron which you can play on your own PC. However, there are also online Massive Multiplayer Campaigns available which run 24x7 to which you can connect anytime (requires and Internet Connection).
Now you can fight an entire Campaign online, anytime, any side, as often as you want. The Campaign is fought on the Server which keeps a record of the results of the battles that are played, either single player, or H2H.
Outstanding Mod Support. Close Combat Mods (modifications to the game by the Community) have been around for many years, due to the incredible enthusiasm and efforts of the Community. These Mods make changes to the game which require replacing files in the game Folders. Doing this manually can lead to problems if everything is not done just right, and reverting back also has to be done manually. CCModSwap makes this very easy and accurate, not only to install a custom modification, but also to uninstall it. No special knowledge of the game or the Windows file system is required. The modifications give you different theatres to fight in, with new Teams, Units, Weapons, and Battles to fight.
Online Head to Head Matching. Close Combat: Cross of Iron includes an online Lobby system where you can meet up with other players, and even launch H2H (Head to Head) multiplayer games automatically once a match is set up.
New Maps and Campaign. Close Combat: Cross of Iron comes with all the original Close Combat III Battles, Operations, and Campaigns. However, also included is an entire new Campaign called Fuger's Ostliche Wut, or Fuger's Eastern Fury, for you to fight as either German or Russian, based on actions between 1943 and 1944. Each Battle and Operation has been carefully made with in depth briefings related to actual events, and will give you hints about the battle and what you may expect. We have tried hard to make the balance of play suitable for a newcomer to the game, making it neither too hard or too easy.
There are 26 new maps never released before and 6 modified maps from the original game, gathered together in 12 Operations spanning 12 months of the Russian Front Campaign, from dry summer landscapes through mud and snow.
Revised Data.The Teams, Units, Weapons, and Data have been revised with new Graphics and more accurate performance. The AI has been modified to reduce many of the problems experienced with the original release of Close Combat III, and it is of course now Windows XP and DirectX friendly.
Close Combat: Cross of Iron has been re-engineered to be compatible and stable with modern PC Systems with Pentium 4 and above, DirectX9+, and Accelerated Graphics Adapters. However, it should still run on systems it was originally designed for.
Finally, improvements have been made to the AI to reduce some of the more inadequate performance issues, in particular with respect to vehicle pathing, the 'crawl of death', and Team and Unit morale and response in general. For example, it is much more risky to try and use Teams in isolation as the influence of Command Teams is more significant. You should find that you will need to play more cohesively than in the original release.
Crush the enemy and gain the respect of your troops as you lead them to ultimate victory in Close Combat: Cross of Iron!
Game Features
Realistic soldier psychological profiles during combat
Accurately depicting WWII squad-level warfare
Direct and indirect fire with limited ammunition
Ability to protect your men in building, pillboxes, and trenches.
100's of specialized squads, weapons, soldier types, vehicles & Artillery
Includes "Command Center" linking you to new maps, campaigns, mods, and player forums.
Enhanced head-to-head and multiplayer combat modes.
Enjoy the variety of modifications available from the Close Combat Community providing years of additional gaming pleasure.
Runs well on modern DirectX systems
Adjust timing and scroll speed and volume
New Sounds (many not heard before)
... and many more!

Game score 5.3 / 10 calculated out of 74 players' votes.
Age Rating
age requirements: everyone
System requirements
PC / Windows
Recommended: Pentium II 300 MHz, 64 MB RAM, graphic card 8 MB