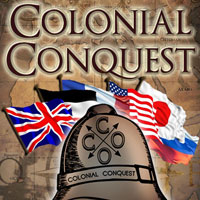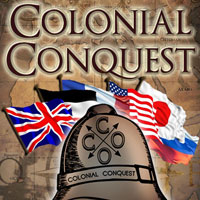 Colonial Conquest
A turn-based strategy game developed by Argonauts Interactive, taking place between 19th and 20th century, in the age of conquest and warfare.
Colonial Conquest for PC, AND and iOS is a turn-based strategy game taking place during the 19th century – an age of conquest and solving differences on a martial path. The players can choose from six empires that attempt to become the dominating country in the world. The game was developed by Argonauts Interactive, a studio known from titles such as World War 1 or Galactic Inheritors, and was crowdfunded thanks to a Kickstarter campaign.
Mechanics
The players can take control of one of the historic leaders: Theodore Roosevelt (USA), Queen Victoria (Anglia), Emperor Meiji (Japan), Wilhelm II (Prussia), Jules Ferry (France), or Tsar Alexander III (Russia). Each leader wants to lead his country to achieve world domination during one of three available scenarios. Two of them begin in 1880 and 1914, and keep a strict historic timeline, so each state keeps their historical borders. The third, more sandbox-oriented scenario begins in 1870 and has each country controlling only its starting territory, with much more possibilities as to the further course of the gameplay.
The gameplay is turn-based, with each turn representing one season of the year, and having three basic phases: the most developed building phase (only during the spring) that involves recruiting new armies, building fortifications, making important economic decisions, and spying on our rivals. The two following phases (available during the whole year), movement and attack phase are less complicated, and have a similar course to other turn-based games.
The game map offers over 130 regions that are controlled not only by the six main empires, but by many minor countries, while warfare can be conducted on the land, as well as oceans and seas. Conquering each territory results in awarding certain number of Victory Points. The multiplayer mode offers a joint playthrough for up to six players who assume control over the empires (in case of shortages, AI – controlled opponents can fill the void). A hot-seat mode is also available, with each player receiving 4 minutes to finish his turn. The game is won by having the largest number of victory points, or being the first one to reach a chosen limit.
Game mode: single / multiplayer Multiplayer mode: Internet
App size:
Age restrictions Colonial Conquest: 12+
Colonial Conquest System requirements
Minimum:
Dual Core 2.5 GHz
2 GB RAM
graphic card 512 MB GeForce 9600 or better
500 MB HDD
Windows 7/8