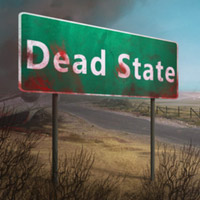 game language: English
game release date for PC:
04December2014
A roleplaying game set in a world overrun by zombies. As a commander of the team made of survivors trying to survive in a dangerous environment. Battles are played in a turn-based system. A large part of the gameplay revolves around relationships with allies and survival.
Dead State is a classic turn-based RPG, the action takes place some time after the massive invasion of zombies. The game is the debut work of DoubleBear Productions. It is a small independent team, which includes Brian Mitsoda, a veteran of RPG genre, who has worked for such companies as Black Isle Studios, Troika Games, and Obsidian Entertainment, and Annie VanderMeer Mitsoda (co-created the scenario of Neverwinter Nights 2: Storm of Zehir).
The action of Dead State takes place in the state of Texas, in a small little town known as Splendid. The primary task of the players is managing a shelter for survivors, which was created in the local school. The place is also our base of operations. Due to the fact that the main objective of the game is survival, usually we are forced to leave the safe walls in search of food, weapons and medicines, as well as keeping a tight rein on our subordinates. Zombies are here in a classic form of slow, dull, shambling corpses. A single undead rarely is a big threat, but in a herd (for example lured by the gunshots) undead present a real challenge.
A large part of the game revolves around the relationship with our allies, or the characters that joined our group of their own volition, or were forced to. Each ally was designed as a full-blooded character with its own character and motivations. The game requires us to continuously take care of the morale and loyalty of our people. The players need to behave like true leaders, give orders, gain sympathy of the other characters, carry out tasks aimed at raising the spirits of the survivors, as well as providing the group with everything it needs to survive. Of course, just like in the real world, it is not possible to please everyone. Decisions made dynamically affect the relations in our hostel. There are also other groups of people, and again, it is our decision how interact with them. Some people can be persuaded to cooperate, others become aggressive towards us.
Combat is turn-based. We only have full control over our character. The other team members are given their own artificial intelligence, and although we can give them orders, they will not always be carried out. It all depends on the personality of the character and its mental state. For example, if we as some poor guy to run into a crowd of zombies, he will probably panic and flee. Relationship with our subordinates is very important. Some comrades in arms after a long time will have so much respect for us that they will risk their own lives to save ours. Apart from that, during combat, we can also use the zombies themselves, for example, luring them to a place where there is a group of people hostile to us. Of course, such strategy is very risky, especially since every one killed by the undead is transformed into a walking corpse.
Wounded team members become zombies if they do not receive their regular supply of antibiotics. Medications are much scarce commodity, so sometimes we are forced to make a decision on whom to save and whom to put to death. Such choices dramatically influence the situation in the whole group. In other words, we have to play politics to maintain order inside the shelter, but even the best diplomatic skills will accomplish nothing if you do not provide food to people. That need forces us to frequent escapades outside the safe walls of the school where we can find not only food, but also items that can help in improving the shelter.

Game score 5.725 / 10 calculated out of 197 players' votes.
Expectations before the premiere: 8.5 / 10 calculated out of 91 players' votes.
Similar games:
Age Rating
age requirements: 18+
System requirements
PC / Windows
Minimum: Intel Pentium 4 1.7 GHz, 2 GB RAM, graphic card 512 MB GeForce 8500 GT/Radeon HD 7290 or better, 1.5 GB HDD, Windows XP/Vista/7/8