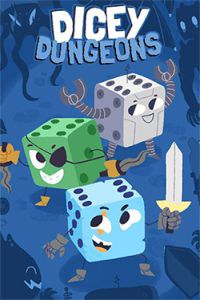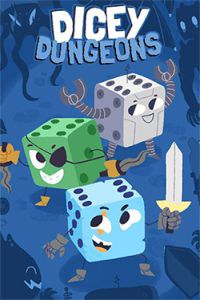 Dicey Dungeons
Turn-based roguelike from Terry Cavanagh, independent developer responsible for VVVVVV. We play as one of the six participants of the quiz show organized by Lady Luck. Our task is to survive all challenges and we use dice as our weapon.
RPG | fantasy | turn-based | roguelike | 2D | indie games | Xbox Game Pass
Dicey Dungeons
Release Date
Dicey Dungeons is a turn-based roguelike from independent developer Terry Cavanagh, the creator of the game VVVVVV. In the game we play as one of the six participants of the quiz show organized by the goddess of happiness - Lady Luck. Our task is to go through the dungeons waiting for us, having as our weapon dice to play, which drive our skills and weapons.
Plot
The goddess of happiness Lady Luck organizes a quiz show in which the prize is the fulfillment of the participant's wish. The player takes on the role of heroes (people turned into dice) who want to fulfill their most secret dreams.
Mechanics
Dicey Dungeons is a turn-based roguelike, in which we have the opportunity to play one of the 6 characters with different gameplay mechanics. The game is based on luck as well as skill, as our moves depend on the number of dice points.
There are six heroes in the game: Warrior, Thief, Robot, Inventor, Witch and Fool. We unlock them as the game progresses (we start with the Warrior). Each character is distinguished by a level of difficulty, a different style of playing, and even mechanics. For example, a Warrior focuses on dealing as much damage as possible, hoping for the highest number of points; a thief prefers a lot of quick blows, which requires more low value dice; and a Witch uses specific numbers to summon spells, which she can activate at any time later. Each class has different skills and a range of useful items.
Fighting in Dicey Dungeons is turn-based and rely on dice throws. Almost every hero starts with two or three dices (the number of dices increases with the leveling), which he throws every turn - almost everyone, because the Robot character has a slightly different mechanics and he can throw until his dice do not reach 11 (this number also increases with the level). With the dices thrown out, the player can power his weapons and skills. Some of them require only dices with any result, others are more precise - you have to throw away a specific number, odd or even digits, or collect a specific value.
Actions in Dicey Dungeons can be divided into offensive, passive, or a combination of both. Offensive actions deals damage of various types (enemies have their own resistances); passive actions adds a defense bonus, or applies effects to enemy or our dices (decreases/increases their value, you can't see what was thrown away, their use is paid for by the damage, etc.).
Most of the character's skills come directly from the equipment we carry with us. We find or buy items from traders for coins falling out of the enemy. Each piece of equipment can be upgraded once at the blacksmith's, but the number of meetings with craftsmen is limited. The equipment is stored in a backpack, to which we have access between the fights. However, during clashes we only use handy items for which there is a limited space - 6 slots, while each item takes from 1 to 2. Often we have to choose what will be more useful for us in the skirmish waiting for us.
Dicey Dungeons is divided into 6 expeditions, which due to the fact that the game is maintained in the convention of television program, are called episodes. Each section is distinguished by a different unique leading mechanics and is divided into 6 separate dungeons. You can get a maximum of 6 lvl in the game, but it is worth remembering that levels and equipment do not move between marches.
Game modes
Dicey Dungeons is a single player game.
Game mode: single player
Age restrictions Dicey Dungeons: Good for all ages.
Dicey Dungeons System requirements
Minimum:
Intel Core 2 Duo 2.4 Ghz
4 GB RAM
graphic card HD 5000 or better
1 GB HDD
Windows 7