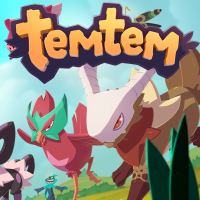 Game mode: massive online multiplayer
Multiplayer mode: Internet
Temtem is a MMO inspired by Pokemon series. It was created by Crema studio, known from the shooter Redneck Immortal. The title had its beginning on a kickstarter, where he managed to raise over 500 thousand dollars.
Plot
Airborne Archipelago is inhabited by people and unique creatures called by the locals Temtems. For years mankind has been living in symbiosis with them. Temtems help at work and have become the best friends of man. They are also used for sports fights, which are very popular among islanders.
In the game we play one of the hunters, who sets out on a journey through six islands of the archipelago to find the rarest species and win the title of the greatest champion. However, the wicked Belsoto group will stand in his way, conspiring against the good of the Temtems as well as the people themselves.
Mechanics
The Temtem University is divided into six islands in the archipelago, each of which is different in terms of climate and creatures. Here we have a sea land, a university island, an exotic jungle, a gloomy desert and swamps, a savannah hot from the sun and a steampunk town.
Collecting Temtems is the second key aspect of the game after exploration. Our task is to catch and tame wild Temtems and develop their skills.
The game features over 150 unique pets divided into 11 elements. It is connected with their strong and weak points, acting as a circle of elements.
We also have the possibility of breeding Temtems. The combination of two creatures of the same species of different sexes results in their laying an egg from which a better and stronger version of the parents will be born. This is one of the most effective ways to create a strong team. It is the basis for safe movement in the lands, which is riddled with other players, NPCs and wild Temtems. It can consist of up to six different monsters. The fights take place in the "two in two" mode, where each trainer puts a pair of pets of his choice. Just like in the classic Pokemon games, fights are turn-based, where the winner is the coach whose at least one of the Temtems has retained the points of life.
The creators added the ability to buy a house and modify it according to our tastes. We can also modify the look of our character, from the choice of gender to the choice of hairstyle and accessories.
Technical aspects
A Temtem campaign can be fully shared with another player. In this mode tasks, battles and loot are shared.
System requirements
PC / Windows
Recommended: Intel Core i3-6100T 3.2 GHz, 8 GB RAM, graphic card 4 GB GeForce GTX 970 or better, 5 GB HDD, Windows 10 64-bit
Minimum: Intel Celeron G530 2.4 GHz, 4 GB RAM, graphic card 1 GB GeForce GTX 650M or better, 5 GB HDD, Windows 10 64-bit