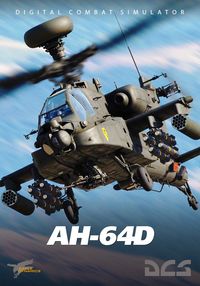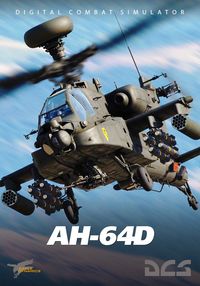 Digital Combat Simulator: AH-64D
PC
DCS: AH-64D
Another module for the advanced flight simulator Digital Combat Simulator World (DCS: World). This time you will have the opportunity to take control of the iconic AH-64D Apache helicopter.
This is Digital Combat Simulator World expansion pack.
Digital Combat Simulator: AH-64D

Release Date PC

17March2022
developer: Eagle Dynamics publisher: Eagle Dynamics Official website

game language: English
DCS: AH-64D is another paid module for the popular flight simulator Digital Combat Simulator World. Its star is the legendary AH-64D Apache attack helicopter. In an effort to faithfully reproduce it in the game, Eagle Dynamics has worked with experts in the form of former and current pilots of these machines, who - being gamers themselves - did their best to create something they would like to fly virtually themselves.
Construction of AH-64D Apache
The design of the AH-64D Apache is based on the AH-64A model, first put into service in 1986, when some 2,400 were delivered. Until 2003, these helicopters - with their tandem crews (first pilot and co-pilot/gunner, CP/G) - served as the primary unit of the United States Air Force. It was later replaced by the AH-64D model - the B and C versions never entered service.
The main armament of the helicopter is a 30 mm caliber M230 automatic cannon (Chain Gun) mounted under the front of the fuselage. In addition, the machine has air-to-ground missile launchers - AGM-114 Hellfire guided and Hydra 70 unguided.
The AH-64D Apache is powered by two T-700-GE-701C turboshaft engines with a combined output of 1265 kW. The fast consuming fuel can be refilled from the outside as well as from the inside. The total capacity of the helicopter's tanks is 1422 liters.
History of the AH-64D Apache
Longbow was used in several armed conflicts - including the Panamanian Operation Just Cause or the First Gulf War of 1991. Apart from the U.S. Army, it was also used by the British, Dutch, Japanese, Egyptian and Greek armies. It also appeared in some iconic games from the past, i.e. Gunship 2000 or the Jane's (Longbow) series published by EA.
Nevertheless, DCS: AH-64D is the most advanced simulator of this deadly machine. The developers have taken care of the realistic reproduction of elements such as the Aircraft Survivability Equipment (ASE) system - which includes missile, laser and radar warning sensors, radar jammer and one-off countermeasures - the PNVS night vision system and the FLIR advanced infrared sensor. In developing the module, the developer also added a fire control radar (FCR) to detect, classify, track and counter air and surface targets with Hellfire missiles.
Game mode: single / multiplayer Multiplayer mode: Internet Player counter: 1-2
Media type:
Expectations: 9.8 / 10 based on 5 votes.
Age restrictions Digital Combat Simulator: AH-64D: Good for all ages.
Digital Combat Simulator: AH-64D System requirements
Minimum:
Intel Core i5
8 GB RAM
graphic card 512 MB GeForce 9800 or better
30 GB HDD
Windows 7/8/10 64-bit
Recommended:
Intel Core i7
16 GB RAM
graphic card 3 GB GeForce GTX 780 / 4 GB Radeon R9 290 or better
30 GB HDD
Windows 7/8/10 64-bit