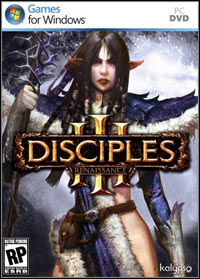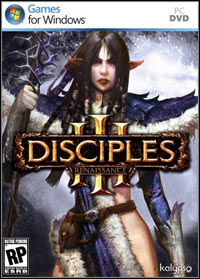 Disciples III: Renaissance
PC
Third entry in the highly-rated Disciples series, started in 1999 by the Strategy First studio. The new game comes not only with a new publisher, but also a new producer – a rather unknown studio of .dat, previously part of Akella corporation.
Disciples III: Renaissance

Release Date PC

11December2009
developer: .dat publisher: Kalypso Media Official website

game language: English
Disciples III: Renaissance is a continuation of Disciples II: Dark Prophecy, a title highly rated by players. We are again presented with a turn-based strategy game, although developers from .dat studio also brought some innovations.
Plot
The story of Disciples III: Renaissance for PC starts with schemes of angel Izeril, who thinks that only complete purge of Nevendaar form corruption will please the Almighty. He plans to do this with heavenly messenger Inoel, who must gather The Force of the World and release it on the altar in the Temple of Ascension, letting the fire burn away all of the world's evil. She descends from Heaven as a falling star, the sight which did not escape attention of powers ruling Nevendaar. Especially Empire is keen to take any chance of making up for losses after the last war against elves. And so starts the race between humans, demons and other races to reach the fallen star before others.
Game mechanics
The third entry in Disciples series offers three main factions: Empire, Legions of the Damned and Elven Alliance. Mountain Clans and Undead Hordes are also present, but we can't lead their armies to battle. Each of three sides of the conflict is available from the very beginning with their respective, standalone campaigns, although all of them are connected to each other. Because of that, it is recommended to go through them in order decided by developers.
The basics remained the same as in previous games of the franchise, as we play as one of lords engaging in ruthless battle over rule of the land of Nevendaar. We travel throughout vast lands, gather resources, develop castles (one element per day) and gaining experience by winning fights to improve our statistics and skills. Commanding characters now work differently, acting more like in classic RPGs with equipment window, statistics etc. Weapon, armor and used items are all displayed on hero's portrait.
Battles are turn-based like before, but there are some huge changes to them. First of all, soldiers can now move around the battlefield, when previously they were stuck to the place where they started a fight. Disciples III: Renaissance also expands on tactical options and removes wands. Instead, players need to rely on border guards to expand their territory. They are special units that can be placed on power nodes located on the map, doing which will let us claim a region.
Game modes
Disciples III: Renaissance offers a few ways to play: already mentioned campaign, single skirmishes and multiplayer in form of hot seat mode.
Technical aspects
One of the major changes in the game is transition from 2D to full three dimensions with Virtual Dream – the engine created by .dat studio's programmers. Thanks to that, we can view in 3D not only the main hero, but also battlefields and units, which greatly enhances their already good presentation and quality from previous entries in the series. At the same time, developers managed to retain the signature visual style of the franchise. There is also map editor, which has been highly requested by fans.
Last updated on 20 May 2010
Game mode: multiplayer Multiplayer mode: Player counter: 1 - 3
User score: 7.5 / 10 based on 1960 votes.
Pre-release expectations: 8.3 / 10 based on 1708 votes.
PEGI rating Disciples III: Renaissance
Disciples III: Renaissance System requirements
Recommended:
Core 2 Duo 2.6 GHz
1 GB RAM
graphic card 256 MB (GeForce 7600 or better)
4 GB HDD
Windows XP/Vista