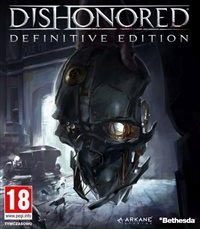 Dishonored: Definitive Edition for PS4, PC and XONE is an enhanced, complete edition of the bestselling first-person stealth game by Arkane which launched at the end of 2012 on PC, PlayStation 3, and Xbox 360. The new version was developed with personal computers and the 8th-gen consoles in mind.
Plot
The action is set in a fictional world that combines elements of the 19th century aesthetics with steampunk. The player assumes the role of Corvo Attano, a former guard of the empress who was foully murdered in a coup staged by the corrupt Lord Regent. To draw the attention away from his scheme, he falsely accuses the protagonist of the crime. However, he didnít take into account the fact that Corvo is an incredibly experienced warrior, who can easily disappear from his enemiesí eyesight, and a master killer that uses a number of sophisticated gadgets. Moreover, he has various supernatural abilities and powers. The wrongly-convicted fighter escapes prison with no problem and embarks on a personal journey to regain honor and avenge the death of the empress.
Mechanics
The titleís mechanics combine elements of a classical first-person action game with numerous Thief-inspired stealth production aspects. The key gameplay element of Dishonored is to perform carefully planned murders. The developers put large emphasis on freedom of action which means that we can complete all tasks both by surprising our enemies and by engaging in direct fights against them.
Elements that prove incredibly useful while playing are considerable environment interaction and skillful use of various gadgets and the supernatural abilities of the protagonist that can be combined together to achieve various effects. For example, we can stop the time for a while, and then use another power to throw some objects from a table and thus generating noise. This will surely distract guards, while we can easily sneak behind their backs. Whatís important, our enemies are gifted with an advanced artificial intelligence so they wonít always fall for our tricks.
Every problem in Dishonored can be solved in many ways, and the choice is always for the player to make. Our decisions arenít of no consequence for the plot, of course. The game follows our behavior in an intelligent way, studying, among other things, how aggressive we are and how many damage and victims we leave behind. Depending on these factors, the system visibly influences the story and changes that happen in the game world.
Technical aspects
In comparison with the 2012ís original edition, Dishonored: Definitive Edition for PS4, PC and XONE is characterized by enhanced graphics that utilize the capabilities of the next-gen consoles. Moreover, all post-launch DLCs of the vanilla game, including two major expansions: The Knife of Dunwall and The Brigmore Witches, come as an integral part of the Definitive Edition.
Age Rating
age requirements: 18+