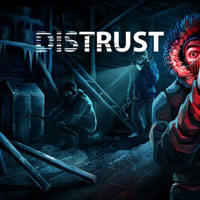 Game mode: single / multiplayer
Multiplayer mode: Internet
Distrust for PC is an independent game inspired by the classic horror film The Thing, directed by John Carpenter. The game was developed by a little-known Russian studio Cheerleaders and constitutes a mixture of a strategy and a survival horror, featuring elements of the roguelike subgenre.
Plot
The player assumes control of a group of discoverers whose helicopter has crashed near a supposedly abandoned base in the arctic. Surviving in such a situation is a challenge alone, but the catastrophe is unfortunately only the beginning of their troubles. It turns out that a mysterious, monstrous power is present in the vicinity, and it feeds on the life energy of those asleep, leaving only corpses behind. Trying to avoid sleeping at all costs, the survivors struggle to find a way back home. With each hour however, the fatigue takes its toll on them a bit more, and their senses become to deceive them. Can they still trust their perception? What is the monster waiting to claim their lives? Where lies the border between reality and hallucinations?
Mechanics
Distrust for PC mingles elements of strategies and survival horrors together. The game also borrows from roguelike titles, as it features randomly generated locations and the difficulty level is relatively high. The game is played from an isometric view and the player controls the characters using the mouse. The player can choose two main characters from a group of 15 persons. Each character has an individual set of skills. The player's main task is to make sure the characters survive, but their goal is also to solve the mystery of the creature lurking in the base. Taking care about the characters requires providing them with food, rest and warm shelter, which protects the characters from cold everywhere around. In Distrust, sleeping always involves taking a risk, but lack of sleep can result in hallucinations, so the player has to maintain an appropriate balance between their moves. It might be helpful though that the player can switch between the survivors at any time to compare what they perceive in order to know what is real from what is merely a hallucination.
Technical aspects
Distrust for PC utilizes the Unity 3d engine. Although the visuals are relatively simplistic, the graphic style manages to convey the atmosphere of the game well. Areas outside the base are often concealed behind dense blizzards, and darkness around requires the characters to use flashlights. The game's skilfully crafted atmosphere is complemented by a subtle soundtrack, hand-drawn maps accompanying the loading screens, as well as animated and voiced-over cut-scenes conveying the story.
System requirements
PC / Windows
Recommended: Intel Core i5 2.6 GHz, 4 GB RAM, graphic card 1 GB GeForce GTX 460 / Radeon HD 6850 or better, 2 GB HDD, Windows 7/8/10
Minimum: Intel Core i3-560 3.33 GHz, 4 GB RAM, graphic card 512 MB GeForce 9600 GT / Radeon HD 3870 or better, 2 GB HDD, Windows 7/8/10