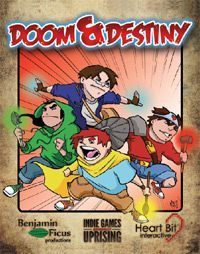 Doom & Destiny
A two-dimensional turn-based comedy RPG. In Doom & Destiny, four RPG lovers go to a fantasy world and are mistaken for a party of heroes. While playing, the player explores various levels (i.e.
RPG | fantasy | 2D | humorous | top-down | indie games | classic RPG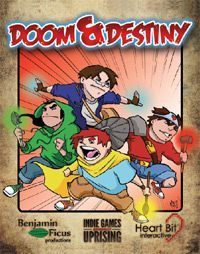 Doom & Destiny is the third game for PC and X360 co-developed by HeartBit Interactive and Benamin Ficus Production. The two-person development team (Francesco Ficarelli and Matteo Nicolotti) was inspired by classical 2D turn-based RPGs.
Plot
The plot of Doom & Destiny revolves around four slightly bizarre friends. Nigel, Mike, Johnny, and Francis meet together to play another session of their favorite role-playing game. This time around, the fun takes a different course. Unexpectedly, the group are taken to a world full of magic where they are mistaken for legendary heroes. Completing the main storyline should take about 25 hours.
Mechanics
The developers made sure the game offers, among other things, a vast world to explore (including cities and dungeons), a large amount of non-player characters, and lots of quests to perform. We will, too, often fight with around 300 kinds of opponents. As befits a traditional RPG, the title offers extensive possibilities of customizing appearance, equipment, and skills of the party members. As we gain experience, the heroes can master over 200 special powers and attacks.
Technical aspects
Visually, Doom & Destiny for PC and X360 clearly references classical RPGs, for example, the first few installments of the Final Fantasy series. The game features traditional 2D graphics with a top-down camera (although the characters are presented from the side). The production is distinguished by its numerous humorous accents such as searching for a pizzeria in the fantasy world.
Age Rating
age requirements: 12+
System requirements