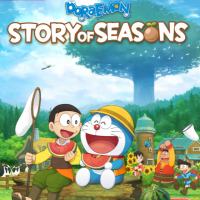 Doraemon Story of Seasons is a spin-off to series of agricultural RPGs called Story of Seasons. The game was developed by Marvelous and Brownies studios, and was based on the license of the popular manga, which was also adapted in the form of anime series.
Plot
The main character of the game is a boy known as Nobita, who is accompanied by a cat-looking robot called Doraemon. One day, the protagonists find a mysterious seed that they decide to plant. Then a huge tree grows out of it and a powerful storm breaks out taking the heroes and their friends to a mysterious, unknown city called Season Town. The protagonists decide to stay there and help the locals while trying to find a way back home. While Nobita is involved in bringing the destroyed farm to order, Doraemon is assisting the mayor in the development of Season Town.
Mechanics
In Doraemon Story of Seasons, the action is shown from the top-down perspective. During the game, players mainly work on the farm. In order for Nobita to be able to harvest an abundant crop, one must first cultivate the soil, plant seed, and water the plants growing on the fields. It is worth noting that individual crops must be adapted to the season, otherwise they will be destroyed. Taking care of farm animals also plays an important role - players must ensure that they have a roof over their heads, are well-fed, and are regularly cleaned. In addition, during the game players establish relationships with the inhabitants of Season Town and complete tasks for them to push the plot forward, as well as decorate the protagonist's room, fish, and even hunt for worms.
As players progress, they unlock new gadgets for Doraemon's, which make it easier to work on the farm. Gungun, for example, makes plants grow in a flash, while Anywhere Door creates a teleport that allows Nobita to move to the beach in no time.
Technical aspects
Doraemon Story of Seasons has colorful, cartoon-like visuals in a style known from the manga original. During their adventure, players are accompanied by calm and relaxing music.
PEGI Rating
System requirements
Minimum: Intel Core 2 Duo E8400 3.0 GHz / AMD Phenom II X2 550 3.1 GHz, 4 GB RAM, graphic card 512 MB GeForce 9800 GTX / Radeon HD 3870 or better, 750 MB HDD, Windows 7(SP1)/10 64-bit