News
Opinions
19 February 2023, 18:00
author: Krzysiek Kalwasinski
Games Like Stardew Valley 2023
Stardew Valley is a great game, very popular to this day – at least among fans of farm simulators. However, there are plenty of similar games which are quite interesting. The list below will tell you a bit more about them.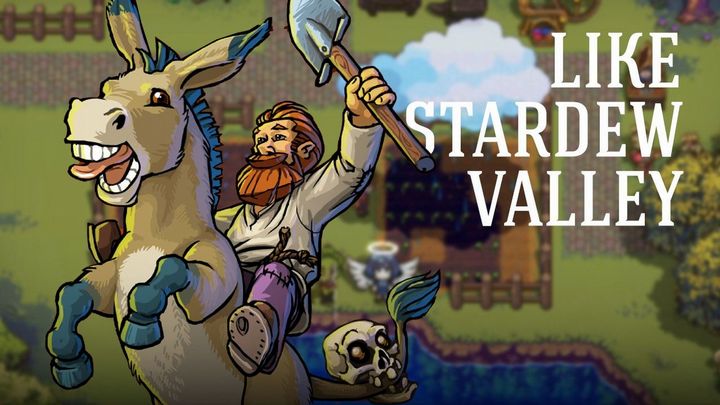 Best games like Stardew Valley you can play in 2023:
Stardew Valley is a heck of a game, but its foundations were clearly taken from a different series. Namely Harvest Moon (today known as Story of Seasons), which was the first RPG and farm-life simulator in one. Cornered Ape, on the other hand, developed well-known mechanics and added a lot of original ideas to the mix. Among the examples, one can find fighting different opponents, and a large dose of randomness. Many other games followed suit, deviating from the proposed formula to different extents.
Still, if you enjoyed Stardew Valley and would like to take a dive into a similar experience, you surely will find something for yourself in the list we've prepared. Regardless of whether you want to spend at least several dozen hours relaxing with cocoa and harvesting, or you're looking for something more challenging and exciting. There's something for everyone here. The following list of over fifteen games will prove that for sure.
Graveyard Keeper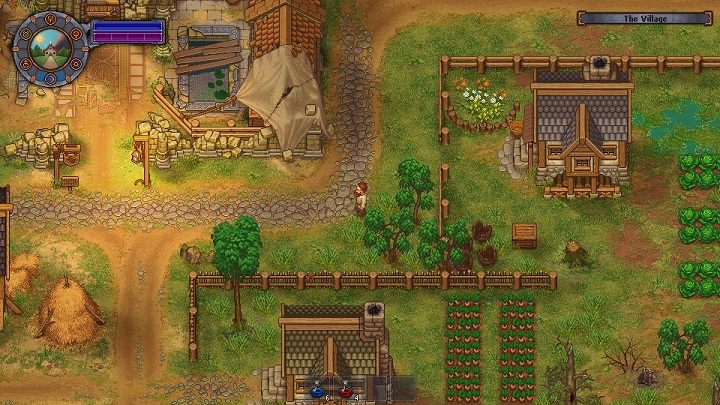 Developer: Lazy Bear Games
Platforms: PC, iOS, AND, XONE, Switch, PS4
Release date: August 15, 2018
Graveyard Keeper is mostly about taking care of the graveyard, rather than a farm. Quite an interesting take on the genre, don't you think? Players get a chance to become a new cemetery manager in a world filled to the brim with magic, monsters and multiple other threats which have their roots in the fantasy genre. One thing the protagonist cannot complain about is the lack of responsibilities. There's always something to be done, especially in the beginning, when the business isn't exactly booming. You need to repair a lot of items, as the previous owners didn't do much of a maintenance and pretended everything was fine. Fortunately, the talking skull is there to help you out!
Graveyard Keeper offers at least several interesting elements. With a dark sense of humor being one of them, you will often experience the game mock multiple fantasy clichés. As for the management-related duties, they involve much more beyond digging pits and burying the dead in them. You need to collect resources, erect buildings, and fight dangerous monsters (such as bats). On top of that, you also have to cultivate different plants. You don't need to spend all the time at the cemetery, though. The busy manager can find some time to visit the nearby village to take part in burning a witch at the stake, trade, and even attend a mass in the church.
Disney Dreamlight Valley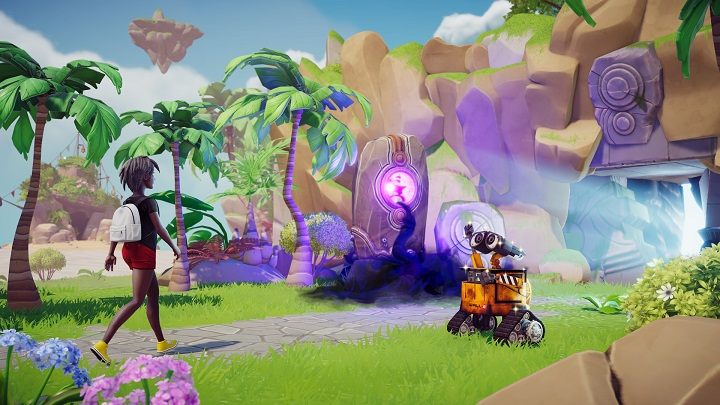 Developer: Gameloft
Platforms: PC, PS5, XSX, PS4, Switch, XONE
Release date: September 6, 2022 (early access)
At first glance, Disney Dreamlight Valley may seem like an entirely different type of a game than Stardew Valley. Both productions, however, have a common denominator – they're life simulators. The first difference is the setting – Dreamlight Valley doesn't take place on a farm, but in a fairy-tale land inhabited by beloved characters from the Disney and Pixar universes. The player is tasked with creating their character, saving the dwellers of the cursed land, and restoring its former glory.
Apart from helping the iconic characters suffering from amnesia, one needs to rebuild the entire kingdom. That's why you'll need to erect new buildings and decorate the neighborhood as well as your own apartment. On top of that, you can cook, grow vegetables, go fishing and even take up mining. All this in the company of the characters you manage to save. That's a good starting point for making more friends. Currently, there's no other game like this one.
My Time at Portia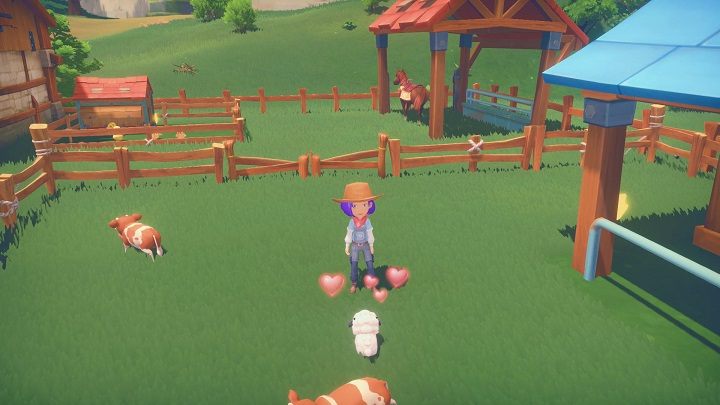 Developer: Pathea Games
Platforms: PC, AND, Switch, XONE, PS4, iOS
Release date: January 15, 2019
My Time at Portia is another life simulator revolving around running a farm. The whole thing is gift-wrapped with adorable artistic style combining elements of fantasy and post-apocalypse. Unlike most games representing this genre, here everything is very colorful, and the inhabitants are filled with hope. They spend most of their time exploring the ruins in search of valuable materials that will help improve their comfort of life.
The Pathea Games' production is extremely addictive, and at the same time a real time sink. The sandbox nature of gameplay gives players a lot of freedom. The game also offers players the chance to partake in a lot of activities. All this stems from the need to craft various items. This then leads to the exploration and combat. Still, you can become acquainted (or get involved into something more) with the locals. There is also no shortage of fishing as well as participating in snowball fights and even town festivals – to win a horse, for example.
Sun Haven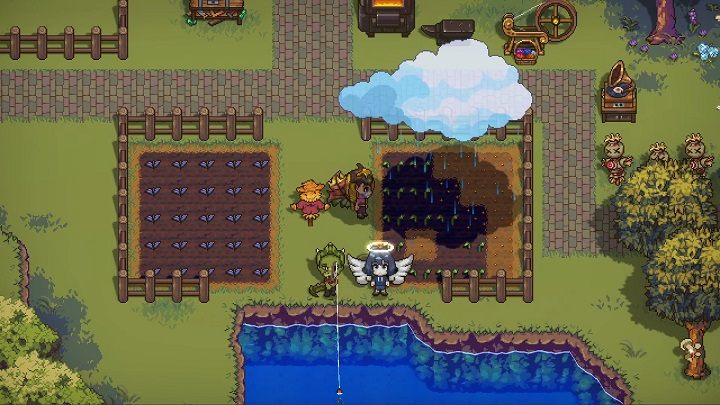 Developer: Pixel Sprout Studios
Platforms: PC
Release date: June 25, 2021 (early access)
The artistic style of Sun Haven may seem a bit off-putting to some, as it's highly inspired by manga and anime. However, if the visual setting is not one of your concerns, this independent production will offer you a lot of ways to "waste" your time. Upon entering this medieval fantasy world, you will be tasked with restoring the glory of the titular village. On your quest, you will experience an interesting storyline and visit various locations and extraordinary cities – such as those inhabited by monsters and shrouded in eternal night.
As a life simulator, Sun Haven mostly revolves around running a farm or rebuilding the city. And thus, you'll find yourself sowing, fishing and mining. You'll still get a chance to fight mythical monsters and indulge dive into numerous RPG-like side quests. The game also enables the players to establish some deeper relationships – regardless of gender and race. If that's not enough, you can play the co-op mode in a group of up to eight people! It's a pity that the game is not available on platforms other than PC.
Animal Crossing: New Horizons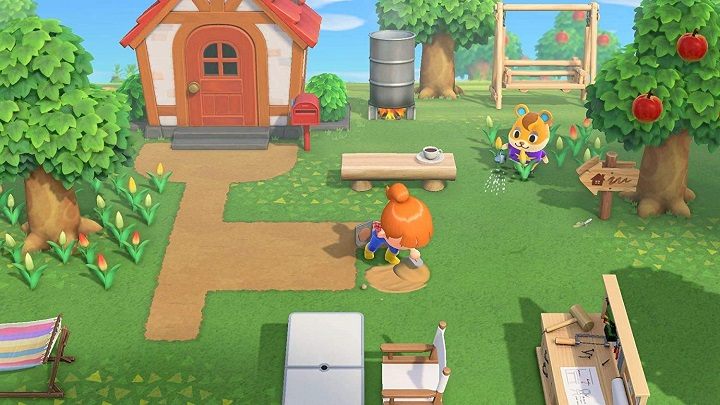 Developer: Nintendo
Platforms: Switch
Release date: March 20, 2020
Animal Crossing: New Horizons needs no introduction. Even if you haven't played any of the installments, you may have heard of the iconic Tom Nook, who has appeared in countless memes. The series has been around ever since 2001 is currently considered a cult classic. Partly because of its signature feature, namely in-game representation of the actual date and time. In the game it is the same as in reality. Apart from the time of day and year, it also takes holiday-related events under consideration.
At its core, the game revolves around expanding the island, where the player is sent by the entrepreneur already mentioned above. You need to start from scratch, though. You'll have to obtain all the materials yourself, and then deal with crafting the items necessary for building the village. Construction enthusiasts can enjoy a lot of freedom in this respect. You can place whatever you want nearly wherever you want, so each player's house is something special. The game is not all about building, though. On top of that, you can grow plants, fish or partake in various activities.
Coral island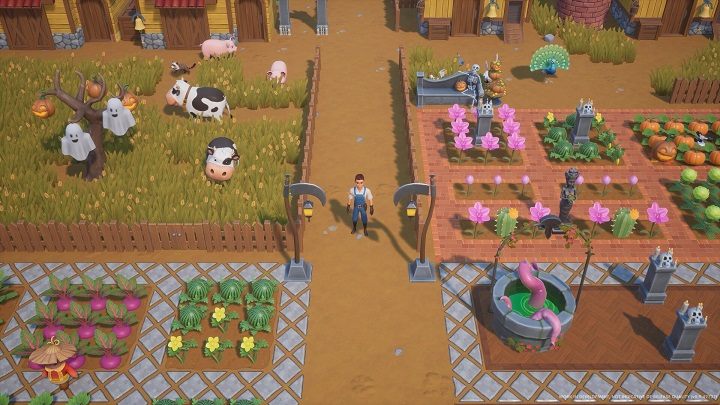 Developer: Stairway Games
Platforms: PC
Release date: October 11, 2022 (early access)
Just like in Stardew Valley , the protagonist of Coral Island also leaves the hustle and bustle of a big city by moving to a picturesque and quiet town on an isolated island. There, it's all about running a farm. And that's what the game basically boils down to: harvesting crops, raising animals, and gradually expanding your farm.
It's also important to explore the mines in search of valuable resources. This in turn involves fighting the monsters living inside. On top of all that, you can dive to recreate the coral reef of the titular island. You can also bond with the locals. To win someone's heart, you must often interact with them and, e.g., present them with various gifts. Some people may find the lack of a multiplayer mode bothersome, but let's remember that at first Stardew Valley hadn't had one too.
Moonlighter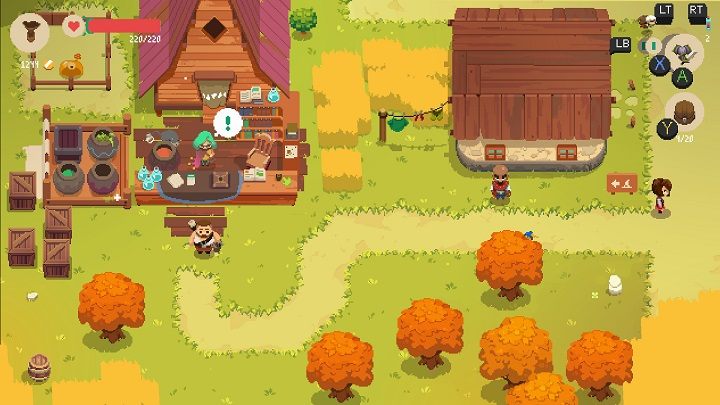 Developer: Digital Sun Games
Platforms: PC, AND, XONE, Switch, PS4, iOS
Release date: May 29, 2018
A passionate shopkeeper by day, an adventurer and life-risking artifact hunter by night. That's one of the ways one could describe the protagonist of Moonlighter. Even though at first glance the game doesn't seem to be like Stardew Valley, it turns out that both have quite a lot in common. In both games, you fulfill the dream of your ancestor by taking care of a place where they put a lot of heart and most of their lives. The difference is the setting – a farm vs a store.
The gameplay of Moonlighter comprises two parts. The first one is managing the store: displaying goods, setting prices and dealing with sales. In all this, it is important to observe the mood of customers and the market itself. The second part of the game focuses on combat and introduces certain roguelike elements. The protagonist descends to dangerous underground to explore multiple chambers and fight numerous monsters. All this to improve the store's inventory and, as a result, earn money to acquire better equipment. If you grow fond of the cycle proposed by the developers, you will spend a whale of time playing this game.
Story of Seasons: Pioneers of Olive Town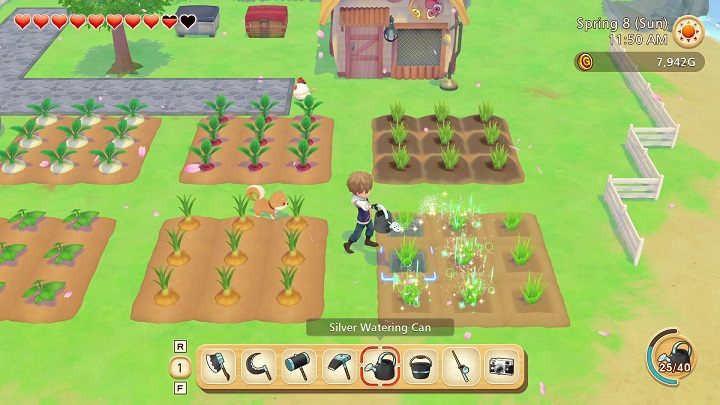 Developer: Marvelous Interactive
Platforms: PC, Switch, PS4
Release date: March 23, 2021
Story of Seasons is a series formerly known as Harvest Moon . That's how it all started. The classic from 1996 is the progenitor of the farming RPG and a huge inspiration for Stardew Valley itself. Both the older installments of Harvest Moon as well as Story of Seasons: Pioneers of Olive Town are devoid of any anything resembling combat and violence. They focus entirely on running the farm and participating in the life of the small town.
The adventure begins on a farm that has been neglected for years. Your task is to take it up a notch so that it begins to prosper. So weed the farm, remove stones and dead trees, and finally grow plants which you'll be able to sell. This way, you'll earn enough to buy farm animals, which opens new opportunities that will ultimately help you expand the farm. The opportunity to make friends and participate in several hundred different activities also makes for a fine addition.
Garden Story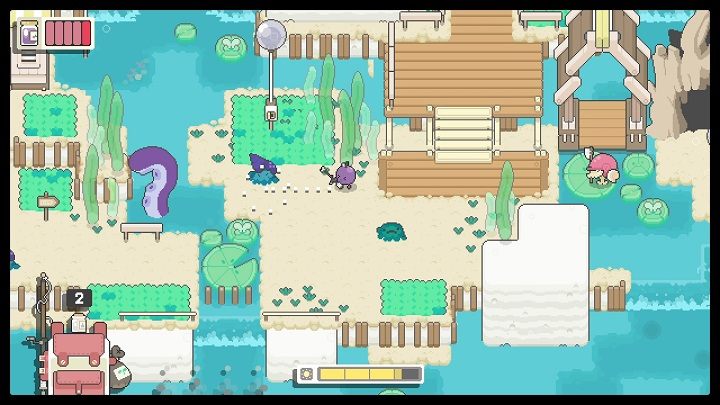 Developer: Picogram
Platforms: PC, XONE, Switch
Release date: August 11, 2021
Because of its visuals, Garden Story can be compared to cult classics, such as The Legend of Zelda from Super Nintendo Entertainment Software or some of the early installments of Pokemon . It's easy to notice the developers' fascination with Nintendo games from that particular period. The characters are also bound to charm the players. Take the protagonist, Grape Concord, for example. His task is to stop the rot from slowly consuming the foundations of the adorable island.
At its core, the game is quite similar to the other ones listed here It's an RPG in which players will spend the lion's share of time taking care of the farm. The island is divided into sectors that must be discovered first. In each of them, one can grow various plants and then harvest them. It is also important to help fruit-and-vegetable-like locals and fight against dangerous opponents. For the most part, however, the game is rather an idyllic and accessible one, so it's works great if you want to experience some relaxing moments.
Hokko Life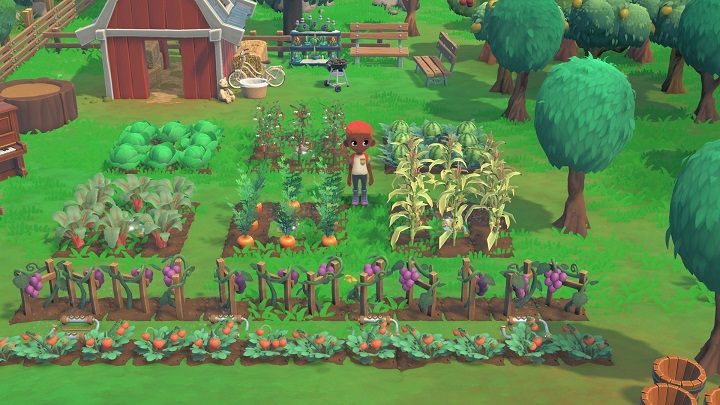 Developer: Wonderscope
Platforms: PC, PS4, Switch, XONE
Release date: September 27, 2022
If you're looking for something more like Animal Crossing, Hokko Life may be the right choice. The creators drew inspiration from the hit Nintendo series. So, it comes as no surprise that here, the players also find themselves in a village inhabited by anthropomorphic animals and need to help them expand the settlement. On top of that, they can task you with completing some quests. All this has been wrapped in colorful visuals. Before starting the adventure, though, players need to create their own character.
As part of expanding the settlement, you can build new structures and modify the existing ones. You then can decorate them with things like furniture that you come across while exploring the village and the surrounding area. On your journeys, you will also find raw resources that can be utilized to craft new items. Crafting is crucial in this game. Players can also grow plants to then harvest and sell them.
Slime Rancher 2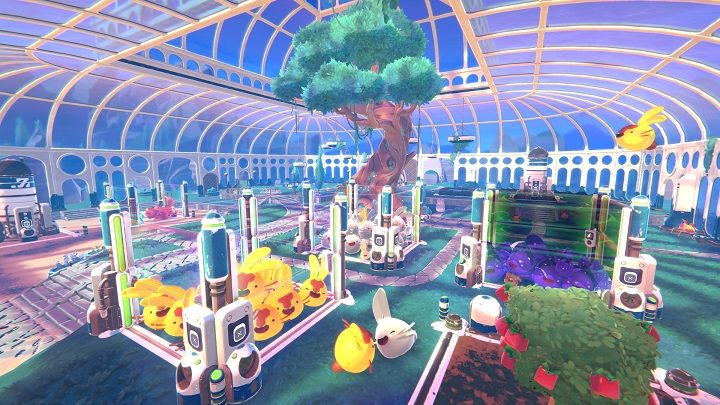 Developer: Monomi Park
Platforms: PC, XSX
Release date: September 22, 2022 (early access)
Slime Rancher 2 takes an unusual approach to the farm simulator genre. The gameplay consists of two pillars. The first one has more action to it, as you traverse the colorful island, discover its secrets and... collect and shoot the titular slime creatures. That's how you'll spend most of the time in this game. Nevertheless, it's equally important to manage the farm, where all the snots eventually end up helping you to expand it.
Slime Rancher 2 resembles Stardew Valley especially in the farm management sequences. You breed creatures, develop the farm, improve your unique weapons, and craft various gadgets. As the game progresses, you can take on new and more demanding challenges. This unique first-person shooter is currently in Early Access, so there's always something new coming to it. The game is supposed to officially launch in 2024.
Atelier Ryza: Ever Darkness & the Secret Hideout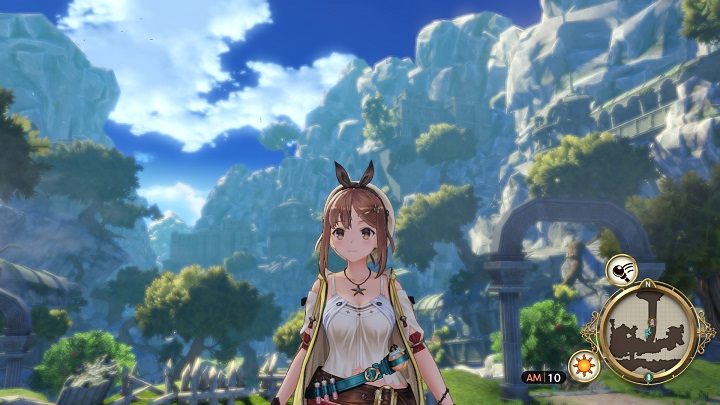 Developer: Gust
Platforms: Switch, PC, PS4
Release date: October 29, 2019
Atelier Ryza: Ever Darkness & the Secret Hideout is something slightly different. This game represents the iconic jRPG titles, which are heavily based on running a business. The second key feature of these games is the theme of alchemy, i.e. crafting items using magic and science. Players assume the role of a young adept of this art, who's about to embark on a dangerous adventure.
As befits a proper jRPG, combat is an important element of the game. In this respect, the game resembles a typical representative of the genre. During the turn-based battles, players entirely control their units. Both during exploration and skirmishes, you obtain valuable resources, which can then be used to craft new items. The developers have significantly improved this system, so it is more enjoyable than in the game's predecessors. And if you like this game, there are 2 more installments already available. And many more, which feature different protagonists.
World's Dawn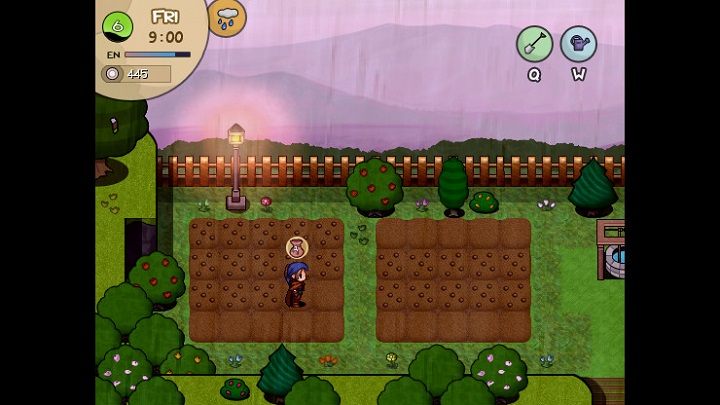 Developer: Wayward Prophet
Platforms: PC
Release date: January 25, 2016
World's Dawn is an indie game heavily inspired by the classic Harvest Moon games. You land in a peaceful village of Sugar Blossom located by the seashore. As befits a relaxing game, you're tasked with befriending the locals as well as taking care of the inn and the farm animals. If you want to take a break from the daily responsibilities, you can go fishing or even start looking for love.
One of the coolest features of Wayward Prophet's game is the dynamic nature of the world. As in other representatives of the genre, the game features different seasons, which change the set of crops that you can plant, as well as the methods of raising the animals or celebrations in the city. You can't complain about lack of things to do here. The whole experience is complemented by well-written characters and memorable dialogues. This game is quite inconspicuous, but it is one of the best in its category. And it goes for a song.
My Time at Sandrock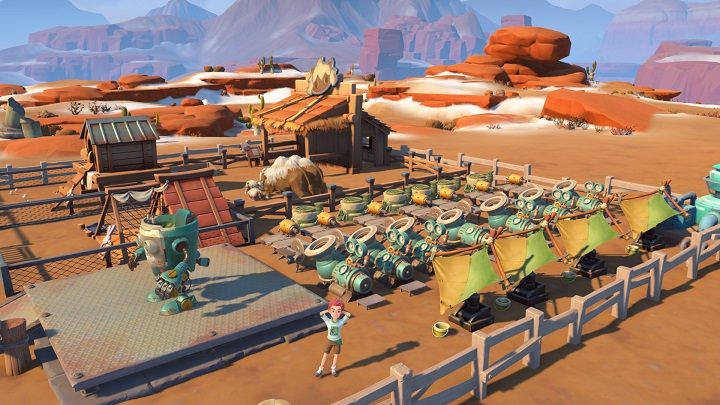 Developer: Pathea Games
Platforms: PC, PS5, XSX, Switch, XONE, PS4
Release date: May 26, 2022 (early access)
If you liked My Time at Portia – or the opposite, and would rather have something much more post-apocalyptic, then maybe My Time at Sandrock will be what you're looking for. This is the sequel to the aforementioned game, which takes place at the same time, but in a different place – the desert town of Sandrock. The character you create comes here as a builder to help with the restoration of the place.
The game is based on the same foundation as its predecessor: you take care of your land, traverse the world in search of resources, craft items, build constructions and fight monsters. Many elements have been improved, while some new ones have been introduced as well. The locals now are based on a better AI, the world is more complex, and the arcade combat system has more depth to it. The game is currently in early access and is still being developed, so many elements can be improved.
Doraemon Story of Seasons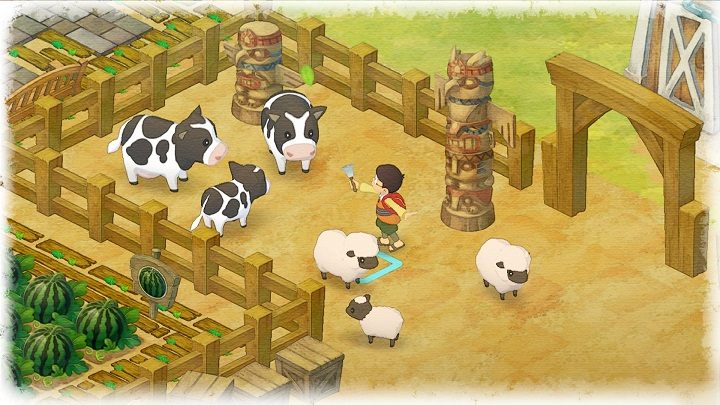 Developer: Marvelous Interactive
Platforms: PC, PS4, Switch
Release date: October 11, 2019
Doraemon Story of Seasons (as you can tell from the title) is a spin-off of the Story of Seasons series, which was already described above. It is based on the popular manga, which also has an animated series. It tells the story of a boy named Nobita who is accompanied by the titular cat-like robot. As a result of their curiosity, they end up in a town whose inhabitants lament the unfriendly fate that befell them – their house is falling into ruin.
The protagonists are tasked with rebuilding not only the farm they are taking care of, but also the entire town. Nobita is appointed deputy mayor, and since then, he has been doing his best to get his way. Your task is to cultivate fields, breed animals (ensuring that they have a roof over their heads and food) and complete whatever the locals task you with. In the meantime, you can also go fishing or take part in town games. Just like in other games representing this genre, the seasons also play a significant role to the entire gameplay here.