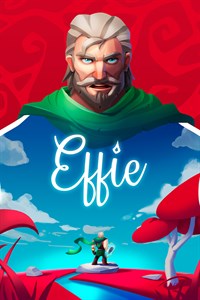 Effie is a three-dimensional action game, in which we play the role of an adventurer, cursed by a witch, who fights against evil that assaults the fantasy land called Oblena. The title's developer is the independent Spanish team at Inverge Studios. The team has created numerous student projects and small games during game jams. Their inspiration were the classic representatives of the genre released on PlayStation 2, such as Jak & Daxter, Rayman 3 and Ratchet & Clank, as well as newer indie hits such as A Hat in Time, Abzu and Rime.
Plot
The story in Effie is extremely simple, but the creators have added a good dose of humor to the mix. The action takes place in a standard fantasy world full of magic and extraordinary creatures. During the game we visit the vast plain called Oblena, which is covered with blood red grass and plants. The players take on the role of a young adventurer named Galand. He became a victim of a curse cast by a cunning witch who aged him by several decades. To regain his lost youth, he embarks on a journey, fighting his way through the servants of evil and liberating the cities of Oblena from the control of black magic.
Mechanics
The action in Effie is presented from third-person perspective. As we play, we traverse a vast open plain, with a variety of locations, such as cities and undergrounds. A magical shield, which acts as a levitating surfboard, on which we can move at high speed in a chosen direction, helps us explore the world.
The gameplay is diversified by platform segments, as well as numerous logic puzzles. Various opponents are roaming the levels we visit. We fight them by using our shield, which increases its effectiveness in battles with time and number and type of opponents it defeated. For those who love to comb through every little corner of the game world map, there are also prizes in the form of numerous collectibles.
Technical aspects
Effie offers extremely colorful and comic book-like visuals, resembling the console hits of the genre, which were released in the early 2000s. The game is accompanied by pleasant music and sound effects.
Similar games:
PEGI Rating
System requirements
Minimum:
Intel Core i5
2 GB RAM
graphic card 1 GB GeForce GTX 650 or better
8 GB HDD
Windows 7 64-bit
Recommended:
Intel Core i5
4 GB RAM
graphic card 2 GB GeForce GTX 770 or better
12 GB HDD
Windows 7 64-bit