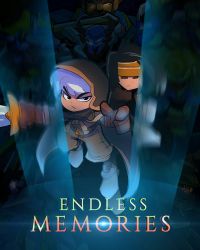 Endless Memories is an action adventure game representing the sub-genre of metroidvania, enriched with clearly outlined RPG elements. The production was developed by the independent, only two-person studio Homunculus Games. Among the sources of inspiration, developers mention such titles as Castlevania: Symphony of the Night and Dead Cells.
Plot
The main character of Endless Memories is Rem, an amnesia sufferer who is locked in a mysterious Dream Laboratory. Wanting to regain lost memories and find a way out of this place, the hero has to travel through eight different dreams and free the minds trapped in them. Each dream tells a different story, has unique characters, and has its own secrets to explore.
Mechanics
In Endless Memories, the action is shown on the side. Exploring particular lands (including picturesque open airs, gloomy caves and even a murderous toy factory or the postapocalyptic city of the future), we jump on platforms, avoid numerous obstacles, traps and solve various environmental puzzles. In addition, clashes with opponents play an important role here. Fights are dynamic and need to be skillful and reflexive to avoid enemy attacks and to lead out instant counter-attacks. We are faced with a variety of opponents, led by powerful bosses. The latter not only have more attack power and damage resistance, they also have unique features. For example, the oversized frog Captain Croig throws lightning at us, the N-28 mechanical mercenary fights with a revolver and the Cwenburg Queen, dressed in armour and equipped with a sword, uses the power of various elements.
We eliminate enemies by using a wide range of weapons (such as daggers, clubs, axes and swords), a bow (which allows us to keep them at a safe distance from the hero) or by using magic combat skills provided by the Ancient Glyphs or Memory Runes. The former give us access to passive and active powers, which we can combine with each other, while the latter not only unlock new capabilities, but also open up passages to previously inaccessible places (for example, by allowing us to travel in the form of an electrical discharge or by allowing us to break through a cracked floor). We find new elements of equipment, we manufacture them thanks to an extensive crafting system or we buy them from traders encountered during the adventure. In addition, as we progress, we earn experience points and advance to the next levels, as well as develop hero statistics.
Technical aspects
Endless Memories has colorful, hand-drawn graphics. The creators made sure that individual locations stand out from the rest both in terms of their colours and the elements that make them up. The fun takes place to the accompaniment of a soundtrack that builds the atmosphere of a great adventure.
System requirements
PC / Windows
Minimum: Dual Core, 4 GB RAM, graphic card 1 GB GeForce GTX 460 or better, 1 GB HDD, Windows 7/8/10