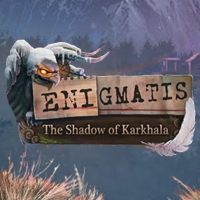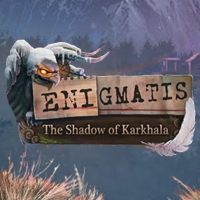 Enigmatis 3: The Shadow of Karkhala
The third installment of the series of investigation adventure/hidden object games that is one of the more popular franchises created by Polish studio Artifex Mundi.
Adventure | hidden objects | casual | Detective | Polish
Enigmatis 3: The Shadow of Karkhala
Release Date
Enigmatis 3: The Shadow of Karkhala is an investigation adventure/hidden object game released on PS4, PC and etc.. The title is the third installment of the series started in 2011 by Polish studio Artifex Mundi which, thanks to this franchise, became one of the leading developers in the Hidden Object Puzzle Adventure casual games market. In difference to both previous installments, the title was released almost simultaneously on personal computers and on most popular mobile devices.
Plot
Enigmatis 3 for PS4, PC and etc. follows the adventures of two protagonists who combine forces hoping to catch the series' main antagonist, a demonic preacher. They learn that he is traveling to the Karakorum Mountains located at the border of China, India and Pakistan. There, in an ancient temple located high in inaccessible mountains, the ultimate goal of his long journey awaits – a secret that will allow him to take over the world. The detectives that are caught in the middle of fight between forces of light and dark start a long and dangerous trip in order to solve the mystery of the monastery and stop the preacher that became more powerful than ever before.
Mechanics
Gameplay mechanics of the third installment of Enigmatis are similar to mechanics of other games developed by Artifex Mundi. The game is a combination of casual "hidden object" gameplay with mechanics of classic adventure games. The player will visit more than 40 varied locations such like a village at the bottom of mountains, a temple, valleys, excavation sites and crypts. In each place there are a few dozen of scenes with hidden objects and classic riddles that require the player to manipulate the surroundings.
Technical aspects
Enigmatis 3 released on PS4, PC and etc. offers high quality graphics that combine 2D and 3D features. Static, but very detailed locations are accompanied by many animations. In difference to the pretty grim atmosphere of two previous installments of the series, this time one can see winter landmarks of Karakorum and locations inspired by the culture of China and the Far East. The developers have also added details rarely seen in games of this genre – changing weather and the time of day which additionally highlights the tone of the game and the flow of time.
Additional information
Similarly as in case of most of their games, in addition to the basic version of their game the developers from Artifex Mundi prepared a collectors edition with an additional adventure.
Game mode: single player
PEGI rating Enigmatis 3: The Shadow of Karkhala