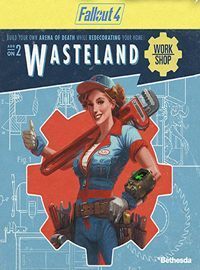 Wasteland Workshop is the second DLC for the sandbox RPG Fallout 4 released for PC, XONE and PS4 and other platforms. It is a small add-on that offers no additional storyline but merely provides the player with new gameplay possibilities. Just like in case of the vanilla game, the edition for PC, XONE and PS4 was developed by Bethesda.
Gameplay
In this DLC, the protagonist may tame or subjugate various kinds of hostile wasteland creatures — be it a beast such as Deathclaw or humanoid opponents like bandits—and lock them up in personally designed cages. We can the release a caught beast according to circumstances, for example during an assault on a supermutant encampment or… to entertain the inhabitants of our settlements.
As a further addition, Wasteland Workshop offers a set of new objects for constructing in our settlements, such as neon lights and stuffed animals.
PEGI Rating
System requirements
PC / Windows
Recommended: Intel Core i7 4790 3.6 GHz/AMD FX-9590 4.7 GHz, 8 GB RAM, graphic card 3 GB GeForce GTX 780/4 GB Radeon R9 290X or better, Windows 7/8/10 64-bit
Minimum: Intel Core i5-2300 2.8 GHz/AMD Phenom II X4 945 3.0 GHz, 8 GB RAM, graphic card 2 GB GeForce GTX 550 Ti/Radeon 7870 or better, Windows 7/8/10 64-bit