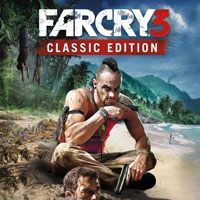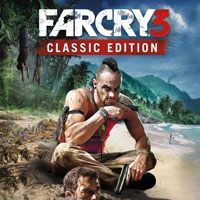 Far Cry 3: Classic Edition
Special edition of Far Cry 3 game, developed for PlayStation 4 and Xbox One devices. Far Cry 3: Classic Edition lets us play as Jason Brody, who must save his friends from the hands of psychopathic pirates terrorizing Rook Islands.
Action | FPP | sandbox | FPS | reeditions/remasters/remakes | shooters
Far Cry 3: Classic Edition is a special version of Far Cry 3. This Ubisoft's title originally debuted as part of season pass for the fifth entry in the series, but has been released as a standalone product after a month.
Plot
Far Cry 3: Classic Edition offers the same story as the original release, as we take on the role of Jason Brody, whose vacations were brutally interrupted. One unfortunate parachute jump results in him landing on an island terrorized by a gang of psychopathic pirates led by Vaasa Montenegro, who decides to teach protagonist his definition of madness. Our character survives that meeting, but now he must face his oppressor again, as well as other armed groups and mentally unstable murderers who might end his life. To save his friends and get out of this nightmare, he must quickly learn how to kill in order to turn from the prey to the predator.
Game mechanics
Far Cry 3: Classic Edition uses first-person perspective (FPP) and gives us a vast world that we can travel both by foot and by various vehicles. New regions of the map are discovered by climbing radio towers to look around our surroundings for interesting places. As we play, our activities come down to progressing with the story and performing side quests given by neutral characters, as well as – of course – fighting with enemies. The latter includes not only people of Vaasa Montenegro or other pirates, but also wildlife, most of which consist of various predators.
Developers prepared a vast arsenal of weapons, among which we will find pistols, machine guns, sniper rifles, shotguns, rocket launchers and recurve bow. It is worth noting that there are two approaches to hostile encounters, and while straightforward charge at enemies might be appealing, sneaking behind foes and silently eliminating them one by one sometimes might be the better solution.
Aside from that, we also must go for hunt from time to time – the game features a crafting system used to develop Brody's equipment. For example, collecting a certain amount of skins from one animal will let us make small quiver for arrows or bigger bag for medicines. There are also some RPG elements – our activities earn us experience points, which can be spent for new skills from one of three development trees representing our style of dealing with problems, known as ways of heron, spider and shark respectively.
Game modes
Unlike original release, Far Cry 3: Classic Edition offers know multiplayer options, focusing solely on story campaign.
Technical aspects
Creators of Far Cry 3: Classic Edition did not bother with changing audiovisuals of the game. As in the original release, Michael Mando (Better Call Saul, Orphan Black) voices Vaas Montenegro.
Game mode: single player
User score: 7,9 / 10 based on 115 votes.
Pre-release expectations: 9 / 10 based on 22 votes.
PEGI rating Far Cry 3: Classic Edition