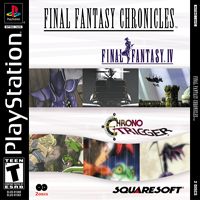 Final Fantasy Chronicles
PS1
Compilation of two Japanese RPGs released in the 1990s on Super Nintendo. The Chronicles Final Fantasy IV and Chrono Trigger versions have been supplemented with several additions.
RPG | fantasy | package | reeditions/remasters/remakes | jRPG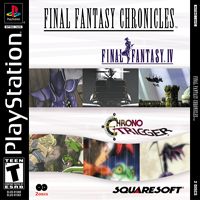 Game mode: single / multiplayer
Multiplayer mode: common screen, players: 1-2

game language: English
game release date for PS1:
29June2001
A compilation of two legendary jRPGs by Squaresoft, Chrono Trigger and Final Fantasy IV, prepared by the Japanese studio Tose. Versions included in Chronicles contain several additions to the original games, which were published years ago on Super Nintendo.
Story
Chrono Trigger tells the story of a boy named Crono, who meets the beautiful Marle during the Millennium Festival of the year 1000. When his new acquaintance disappears while testing a teleportation machine, the protagonist decides to abandon his previous peaceful life and set off on a quest. As he travels through space-time, he visits various epochs, with prehistory, the Middle Ages and the future at the forefront, where he meets new companions, tries to prevent time paradoxes and confronts cunning enemies.
Final Fantasy IV tells the story of Cecil Harvey, the Dark Knight serving in the Baron army. One day he is sent on a mission to steal a mysterious Crystal, which is in the possession of magicians from one of the villages. When he starts questioning the ruler's orders, he loses his rank and all privileges. Soon he finds himself at the very centre of an intrigue, which threatens the existence not only of the inhabitants of the Earth, but also of the dwarves and two nations living on the Moon.
Mechanics
Chrono Trigger is recognized as one of the best jRPGs in history. Originally published in 1995, the title contains all the elements characteristic of the genre. Players explore new lands and epochs, engage in dialogues with many characters and fight battles with new opponents. Compared to many competing titles, including the Final Fantasy series, enemies in CT are still visible on the map, and the battle takes place immediately after we make contact with them - both parties not take to a special arena. The creators used a modified turn-based Active Time Battle system, in which the characters perform their actions after charging a special action bar.
Final Fantasy IV is also a classic jRPG, in which players explore the world and take part in dozens of battles, which are also fought in the aforementioned Active Time Battle system.
Technical aspects
Final Fantasy Chronicles includes slightly improved versions of two classic jRPGs from Super Nintendo. Final Fantasy IV has been supplemented with an FMV intro, improved, more faithful translations and small add-ons that affect the fun, such as a two-player mode or a function that speeds up the game a bit. In Chrono Trigger there are animated cut-scenes and an extras module prepared by Akira Toriyama and Toei Animation, where console owners can see a gallery of characters or get acquainted with the bestiary.
Similar games:
Age Rating
age requirements: 12+