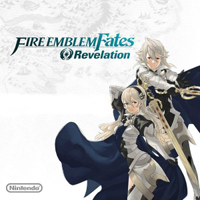 game language: English
game release date for 3DS:
09July2015
Fire Emblem Fates: Revelation is an expansion for two 3DSís jRPGs: Fire Emblem Fates: Birthright and Fire Emblem Fates: Conquest, and it requires one of those games to work. It shows plotlines that werenít present in original story of Corrin, siding either with Nohr or Hoshido, who instead uncovers the truth behind the conflict of these nations.
Game mechanics
We start Fire Emblem Fates: Revelation by customizing our characterís gender, look and name. The game focuses on interesting story, with its hero having a difficult choice to make: side with the family that raised him, or stay loyal to people whose blood runs in his veins.
This doesnít mean that story campaign lacks turn-based battles present in base games, but there is also one novelty. My Castle is a†place where we interact with our allies, strengthening our bond with them. This plays important role in game, because the stronger bond share with our comrades, the better we cooperate with them in battles. Additionally, My Castle serves as place where we meet with other players through Street Pass function, which lets us compete with their armies. Winning such fights will reward us with new soldiers.
Miscellaneous
Fire Emblem Fate: Revelation for 3DS supports Nintendoís amiibo figures, letting us unlock four additional characters: Martha, Ike, Lucina and Robin.

Game score 8.3 / 10 calculated out of 13 players' votes.
Age Rating
age requirements: everyone