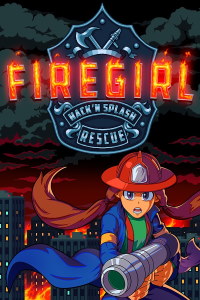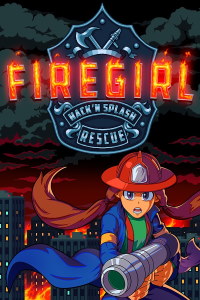 Firegirl: Hack 'n Splash Rescue
Firegirl: Hack 'n Splash Rescue is a 2.5D platform game with roguelike elements. We control a firefighter who has to extinguish fires and save people on randomly generated maps. Game was developed by Dejima studio.
Arcade | platform | roguelike | Fire Department | indie games | 2.5 D | side-scroll
Firegirl: Hack 'n Splash Rescue is an arcade game with platform game and roguelike elements. It was developed by Dejima studio from Japan, known from illumine. In the development of the game participated the artist Gabe Miller, who previously worked on Strike Vector and RemiLore.
Plot
In Firegirl: Hack 'n Splash Rescue we play as a young firefighter who has to fight a fires caused by fire demons. She will also try to discover who is behind the invasion of these infernal creatures on the city and will attempt to restore the prestige of the decrepit fire station.
Mechanics
Firegirl: Hack 'n Splash Rescue is a 2.5D platform game. We play in 2D and the characters are sprites, but the locations are made in 3D. The player's task is to firefight and rescue people.
In each mission we are taken to a different location where we have a limited amount of time to find and rescue endangered civilians. The heroine has a fire hose connected to a backpack with water. It serves not only to fight the fire, but also to battle the fire demons. In addition, the stream of water is so strong that by directing it downwards we can cause the character to shoot upwards, which allows us to reach otherwise inaccessible locations. We also have an axe at our disposal, which is used to smash smaller objects standing in our way.
During the game we carry out rescue actions in residential buildings, hotels, train stations and forests. The gameplay is enriched by roguelike elements. Each time the game randomly generates map architecture, locations of civilians and threats, so there are always new challenges waiting for us.
Between missions we return to the fire station, which we can improve with the money earned during the firefighting actions. Here we also improve equipment and heroine's abilities, talk to characters and hire workers, who offer many useful helps during tasks.
Game modes
The game offers a single player mode only.
Technical aspects
One of the strong points of the game is the artwork. In terms of technology, Firegirl: Hack 'n Splash Rescue is relatively simple, but nice and interestingly animated character sprites, a large variety of locations, frequent changes in camera perspective and well-made fire effects make it a pleasure to look at.
Game mode: single player
Expectations: / 10 based on 1 votes.
Age restrictions Firegirl: Hack 'n Splash Rescue: Good for all ages.
Firegirl: Hack 'n Splash Rescue System requirements
Minimum:
Intel Core i5-2500 3.3 GHz / AMD FX-6300 3.5 GHz
4 GB RAM
graphic card 2 GB GeForce GTX 560 Ti / Radeon HD 7850 or better
2 GB HDD
Windows 7/8/10 64-bit