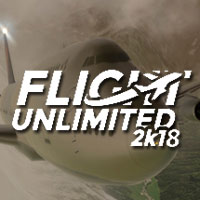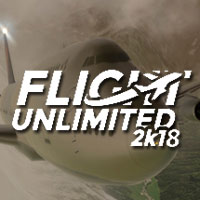 Flight Unlimited 2K18
PC
A flight simulator, in which the player pilots civilian utility planes, large airliners, as well as modern-day fighters and bombers. One takes part in missions and flies the machines over such places as the island of Alcatraz or the Golden Gate bridge.
Flight Unlimited 2K18

Release Date PC

canceled
developer: Flight Systems LLC publisher: Flight Systems LLC Official website

game language: English
Flight Unlimited 2K18 is a flight simulator, which gives an opportunity to pilot both civilian and military planes; one can fly in a free-roam mode or complete missions inspired by the GTA series.
The title and the subject of the game refer to the classic Flight Unlimited series, which was developed in the 90s by Looking Glass Technologies (the creators of both the Thief and System Shock series). However, the creators of Flight Unlimited 2K18 (Flight Systems LLC) do not have anything to do with that studio; Flight Unlimited 2K18 is the successor to Flight Unlimited Las Vegas and Flight Unlimited 2K16 – these two games initially came out for mobile devices, and only later for PCs.
Mechanics
The game is a newcomer-friendly, though a fairly realistic flight simulator. While piloting the available aircraft, the player has to take such real-life factors into account as draft, lift, air resistance, etc. Among the twenty five available machines, one will notice significant differences in terms of weight, handling or propulsion systems. Piloting such big planes as Boeing 747 is definitely a different experience than in case of the F-22 fighter or a sluggish hang glider.
The specific missions place the player in front of challenges and remaining in mid-air will not suffice to complete them. It happens that the action begins when control of the plane is lost or an engine fails – the player's job then is to stabilize the flight before the craft crashes. Another mission can involve having to land a plane in an unusual, hardly-accessible place, such as a bridge. One is also given an opportunity to put their combat skills to a test in World War 2 scenarios, as well as to take part in historical spy missions.
An ability to orchestrate multiplayer skirmishes is an interesting element of the game; for instance, one can see the F-18 fighter plane fighting a civil aircraft like Cessna 172 here. Thanks to a special system responsible for balancing the encounters, the battles are not as unfair as one could expect.
Game modes
Flight Unlimited 2K18 offers a free flight mode (the player can fly in the available locations without any specific goals), a campaign mode (it contains about 50 missions with varying subjects or backgrounds to them – for instance, spy flights or getting a prisoner out of Alcatraz), as well as the multiplayer mode – a special system was implemented in this mode, and it is responsible for balancing the encounters between the players. As a result, old or civilian planes can be used in battles against modern-day fighters.
Technical aspects
Flight Unlimited 2K18 offers a choice between the convenient, third-person perspective and the immersive interior view presenting detailed cockpits. The locations such as San Francisco or Las Vegas were recreated with use of high-quality satellite footage. What contributes to the realism offered, are the weather effects and the day-night cycle.
Last updated on 05 February 2018
Game mode: single / multiplayer
Age restrictions Flight Unlimited 2K18: Good for all ages.