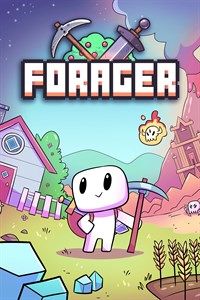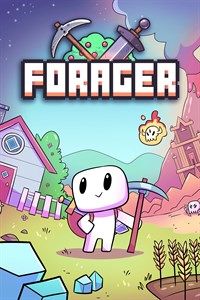 Forager
Two-dimensional sandbox inspired by Terraria, Stardew Valley and The Legend of Zelda series from independent HopFrog studio. Players find themselves in an open world where they collect raw materials and produce items necessary to unlock new activities.
RPG | sandbox | 2D | top-down | indie games | crafting | action RPG | Xbox Game Pass
Forager is an independent production created by HopFrog, a studio founded by Mariano Cavallero, inspired by such classics as Stardew Valley, Terraria and classic installments of the The Legend of Zelda series. A trial version of the title was made available on Steam through the Humble Bundle website, which also released the full version of the game.
Mechanics
Forager takes us to an open world, initially consisting only of a small island. During the game we explore the area, collecting the resources necessary to build a furnace and craft the first items. In time, this will enable us to create gold coins, for which we buy access to other locations. These differ not only in terms of available resources and fauna - some of them are inhabited by NPCs, offering various services.
Like Minecraft, the game has no predetermined goal. We can focus on breeding plants and animals (as well as minerals, if we have such a whim), look for rare objects to exhibit in the Museum (for example, in order to win valuable prizes) or engage in trade and collecting riches. If you're looking for adventure, four dungeons are available, inspired by the old-school installments of The Legend of Zelda, enabling us to face monsters - including massive bosses - and get chests with valuable loot, including new blueprints for crafting. In our expeditions we can be accompanied by NPCs, which we will encounter in the game world. There were also simple puzzles and other activities, but it is better not to devote oneself to them all the time.
Forager features a simple system of character progression, which rewards every activity - extraction of raw materials, defeating enemies, etc. - with experience points. After collecting a sufficient number of these, the hero advances to a higher level, which enables us to develop skills related to crafting, magic, fighting, cooking, mining, etc. The characters also has a chance to develop their skills in the course of their career. The game does not impose any major restrictions on the choice of skills, which makes it easier to create a character consistent with our style of play.
Game modes
Initially, Forager offered only single player mode, but after the release, the creator also introduced online options.
Technical aspects
Forager uses simple but colorful visuals, so that the game works even on older computers.
Game mode: single player
User score: 8,7 / 10 based on 250 votes.
Age restrictions Forager: Good for all ages.
Forager System requirements
Minimum:
Dual Core 1.2 GHz
1 GB RAM
graphic card 512 MB GeForce 8800 or better
200 MB HDD
Windows XP