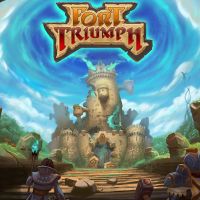 Fort Triumph is a strategy game with RPG elements, which takes place in a fantasy universe. In terms of gameplay mechanics, the game combines solutions known from such series as Heroes of Might & Magic and XCOM. The development of this game is the responsibility of the CookieByte Entertainment. The publisher is All in! Games.
Mechanics
The game at Fort Triumph starts with the choice of the faction and the class of our hero (we have several different alternatives at our disposal, such as a mage or a warrior).
The gameplay is divided into two parts. The first is an exploration in which, by observing the map from an isometric perspective (reminiscent of what we know from the Heroes of Might & Magic series), we move around the world of the game and perform various activities. We can come across various events, get items, additional characters or bonuses, as well as find enemies or taverns (but we don't have typical HoMM base development). The map looks a bit different in each game and changes during the play.
When it comes to the fight, the production moves us to a randomly generated location presenting a particular place a little more accurately (also here we are dealing with an isometric camera, but it is a little closer, so we can see more details). The clashes are played out in turns where we give orders to our heroes and use their special abilities to outwit the enemy. In combat, we can use elements of the environment (e.g. trees and stones can be potential weapons).
As the game progresses, we develop our heroes (various special abilities assigned to each class are available, as well as interclass skills that make the characters really unique).
Game modes
We can only play Fort Triumph alone. The main game mode is a free mode for a single player.
Technical aspects
Fort Triumph has decent, three-dimensional graphics. Graphics do not try to be realistic by any means. Instead, it uses a styling that somewhat resembles the Overlord series. We have a lot of humor, colorful locations and characters that seem to be taken out of the comic book or animated film (this applies not only to graphics, but to the overall atmosphere of the game).
The game is accompanied by a soundtrack, which was created by composer Marco Valerio Antonini (creator of music for Star Wars: Battlefront II).
Similar games:
Age Rating
age requirements: 12+
System requirements
Minimum: Intel Core i3-4160 3.6 GHz, 8 GB RAM, graphic card 1 GB GeForce GT 630 or better, 3 GB HDD, Windows 7 SP1 64-bit
Recommended: Intel Core i7-4770 3.4 GHz, 8 GB RAM, graphic card 2 GB GeForce GTX 660 / Radeon HD 7850 or better, 3 GB HDD, Windows 10 64-bit