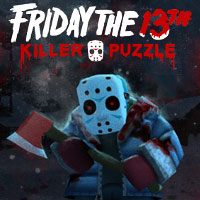 Friday the 13th: Killer Puzzle
A horror game under the license of the Friday the 13th franchise. In this game, filled to the brim with black humor, the player assumes the role of Jason Voorhees who visits camps and murders his victims.
Logic | play for free | Isometric view | horror | videos | humorous | indie games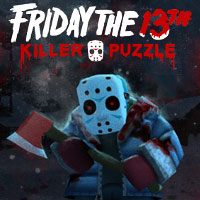 Friday the 13th: Killer Puzzle is the continuation of the bestseller logic game Slayaway Camp by Blue Wizard Digital. This production utilises the gameplay mechanics and the visuals from the previous title and mixes them with the Friday the 13th franchise. This is a free-to-play title with microtransactions.
Plot
In Friday the 13th: Killer Puzzle, the player takes control of Jason Voorhees who is not going to rest until he kills all innocent holidaymakers camping near the route between iconic Crystal Lake and Manhattan. During the campaign, the hero occasionally visits more exotic locations, such as abandoned theme parks, high-security prisons, seaside resorts, and even space.
Mechanics
The game utilises the mechanics that ensured Slayaway Camp success. So, this is a logic game with the action set on small maps divided into square tiles. The objective is to eliminate every victim in a location. The player can do it directly (by crossing the holidaymakers' way and attacking them with one of the available weapons) or indirectly (by scaring and pushing them into bonfires, bear traps, or chippers). The way Jason moves makes things difficult, as he can only go in a straight line, so finding yourself near a victim takes skilful manoeuvring around the environment and discovering the right path. Maps accessed further into gameplay – and there are over 100 of them – feature enemies that can kill Jason. Armed opponents must not be attacked from the front; they have to be approached from the side or back. Following in Slayaway Camp's footsteps, some of the missions feature game modifications, e.g. a limited number of turns.
Technical aspects
Friday the 13th: Killer Puzzle is also similar to Slayaway Camp in technical terms. Therefore, the title has a slightly-humoristic style which is far from realism. In the result, the violence we are presented with is not scary, even during impressive close-ups which show acts of murder inspired by those from Friday the 13th. Still, this game is not meant for younger players due to its gruesome theme.
Similar games:
Age Rating
age requirements: 18+
System requirements
Minimum:
Intel Core i3
2 GB RAM
graphic card Intel HD or better
300 MB HDD
Windows 7
Recommended:
Intel Core i5 2.0 GHz
4 GB RAM
graphic card 1 GB GeForce GTX 460 or better
300 MB HDD
Windows 7