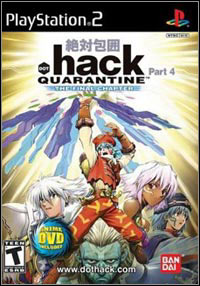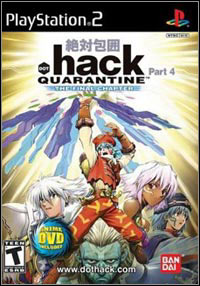 .hack//Quarantine Part 4
PS2
The reality presented in .hack//Quarantine Part 4 has two layers. On the one hand, we have the world of the future, where the most popular virtual game is "The World", and on the other, the virtual reality of "The World" itself.
.hack//Quarantine Part 4

Release Date PS2

14January2004
developer: CyberConnect2 publisher: Atari / Infogrames Official website

game language: English
The final episode of the .hack saga, .hack Part 4: Quarantine, is finally here and now the game has you rushing to complete it. This time, you're against the clock as you play as the outlaw player Kite. You must stop CC Corp from moving the game servers offline and killing comatose victims. Upload your saved data from Part 3 and start out with leveled up characters and items to give you a head start. It's your chance to finally unravel the mystery behind The World.
Last updated on 10 December 2007
Game mode: single player
Media type: 1 DVD
PEGI rating .hack//Quarantine Part 4
.hack//Quarantine Part 4 System requirements