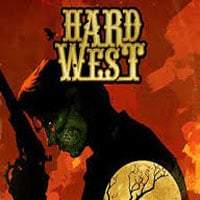 Hard West is a turn-based strategy, which combines exploration of the world like in the series Heroes of Might & Magic with the depth of tactical battles, kept in a climate so called Strange West (mix of western and fantasy). It is the first major work of the Warsaw studio CreativeForge Games, which cooperates with veterans who had worked on such hits as Call of Juarez, Dead Island and Shadow Warrior.
Story
The game was inspired by westerns, so the action takes place in the United States of America in the nineteenth century. However, the historical realities are of a marginal significance. The character starts the game in the gloomy, sun-scorched land where lawlessness is rampant and the most common goods are weapon, ammunition and blood. What is more, there occurs unexplained phenomena, for which is responsible the devil.
Gameplay
Hard West consists of a number of scenarios, which are sufficient for minimum 1 hour of the play. The basis of the game is a map of the world, which is filled with a variety of places including treasures, tasks and secrets. There is no shortage of the opponents – the battles, which take place in detailed and extensive locations, are one of the most important elements of Hard West.
As it was mentioned before, the battles take place in turns. The developer has not implemented bars of life and instead there are applied mechanics where each ball may turn out to be fatal. If the wounded survives – for example, when the character receives potions, medic or shaman help fast - the wound will leave a scar, which will be a kind of perk. It can improve the stats and skills of the character. What is more, in the Hard West there is no shortage of an extensive system of protagonists' development.
The CreativeForge Games Studio provides a lot of tactical options during the game, which are not always conventional. For example, the character can blow the furniture over to use it as a protection against enemies, taking the positions which are unfavorable for the enemies, for example in such a way that the sun blinds them. Another feature can be encouraging the adversaries to abandon the murderous intentions by dropping purses with coins, manual targeting in such a way to deflect a ball of metal obstacles and hit the enemy rebound, as well as ... avoiding protections by twisting the missiles.
As you can see, the creators here and there turn a blind eye to the issue of realism - including weapons. The players in the arsenal can find such inventions as the four-barrel shotgun or rifle with 250g bullets. It is worth mentioning that despite the turn-based system, the clashes are dynamic and do not last longer than 5-10 minutes.
Age Rating
age requirements: 18+
System requirements
PC / Windows
Recommended: Intel Core i5 3 GHz/Athlon II X4 3.1 GHz, 6 GB RAM, graphic card 1 GB GeForce GTX 550 Ti/2 GB Radeon R7 260X or better, 6 GB HDD, Windows Vista/7/8/10
Minimum: Intel Core 2 Quad 2.6 GHz/Athlon 64 X2 2.6 GHz, 4 GB RAM, graphic card 1 GB GeForce GT 430/512 MB Radeon HD 4670 or better, 6 GB HDD, Windows Vista/7/8/10